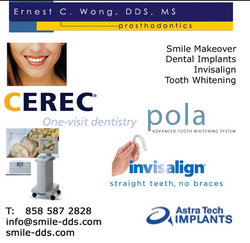 San Diego, CA (PRWEB) May 19, 2010
Dr. Ernest Wong has been selected by his peers. He will appear in the May issue of San Diego Magazine and will also be included in the 2010 database of topDentists™.
topDentists™ is a peer review survey in which hundreds of San Diego dentists and specialists cast votes on the abilities of other dentists and specialists in the San Diego area. Inclusion in the database is considered a singular honor, as votes and listings cannot be purchased and are based on dedication to the industry alone. We are proud to see Dr. Wong recognized and honored by his peers in the San Diego area. The award shows Dr. Wong's commitment to ensuring his patients receive the very best in service and care.
Having been practicing in San Diego since 1988, Dr. Ernest Wong offers patients cutting-edge procedures that are designed to achieve the best possible oral health in a clean and relaxed environment. For example, Dr. Wong has mastered the use of CEREC AC technology that fabricates porcelain crowns and veneers chairside in one appointment. Dr. Wong also offers a variety of other advanced services, including Invisalign™, 1-hour tooth-whitening , dental implants , NTI appliances, Laser gum recontouring, smile makeovers.
To learn more about Dr. Wong's services or to view his clinical portfolio, please visit http://www.smile-dds.com. You can also schedule an appointment online.
About Dr. Ernest C. Wong, DDS, MS: Dr. Wong began his private practice in San Diego, CA in 1988. Attention to details, professionalism, dedication and straightforwardness are Dr. Wong's trademark features. To stay current with new dental technologies and clinical techniques, Dr. Wong regularly takes continuing education courses and participates in professional seminars. Dr. Wong is a Member of American Dental Association, California Dental Association and San Diego County Dental Society. When he is not working in his office, Dr. Wong enjoys an extensive fitness routine and a newly acquired interest in culinary arts.
# # #