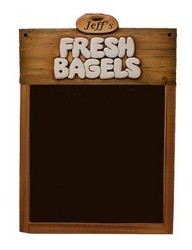 Miami, FL (Vocus) May 19, 2010
Summertime is a time for alfresco dining and if you have a space that caters to enjoying good food in great weather, then it's important to create the right kind of atmosphere.
PiazzaPisano.com, a retailer of fine, handcrafted décor and accent furniture made by artist Al Pisano, is there to help businesses, cafes, and restaurants like yours provide the perfect atmosphere for alfresco dining. Its new line of handcrafted menu boards and chalkboards are different from everything else on the market as they come fashioned by master artisans who truly pay attention to quality, style, and artistic detailing. Retailing under $100, all of these menu boards and chalkboards are perfect for catching the attention of potential diners, not to mention, adding to the alfresco dining experience.
As three-dimensional art pieces that pop on the sidewalk, in a dining area, or near a restaurant entrance, these new menu boards are an essential element to have when you're a business that's trying to catch people's attention to get them in the door.
Advertise drink and dinner specials, alert patrons that your patio is now open, or simply display a greeting that sets the tone and mood for the entire dining experience. The handcrafted menu boards and restaurant chalkboards from PiazzaPisano.com invite guests in for alfresco dining in the warm, summer weather. If you're a business who wants to set itself apart from the crowd of other dining experiences, let these menu boards be one of the pieces you use to create the ideal atmosphere, whether it be fun, elegant, artisan, or just plain friendly.
To add one of the new menu boards or restaurant chalkboards from PiazzaPisano.com to your restaurant, café, or pub décor, shop the selection at PiazzaPisano.com or call 1-800-766-5051 for more information.
About PiazzaPisano.com
PiazzaPisano.com provides unique and handcrafted artwork, home décor, and accent furniture by master artist Al Pisano. From his studio and factory in Miami, Florida, Al creates beautiful and unique pieces that are then recast to add beauty and style to any space in your home, office, or business. Whether you're looking to furnish an alfresco dining area of a restaurant or the entranceway of your café, PiazzaPisano.com and its new line of menu boards is sure to have the perfect accent piece. For more information, visit PiazzaPisano.com or call 1-800-766-5051.
# # #