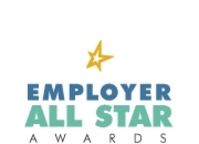 "Employee satisfaction and motivation are strategic priorities for our firm every year," says Chris Little, President & CEO, "this recognition speaks to our commitment to ensuring that Dominion Digital remains a great place to work for our associates."
Glen Allen, VA (PRWEB) May 19, 2010
Dominion Digital received top honors for achievements in Workforce Development at this year's Employer All Star Awards sponsored by the Greater Richmond Society for Human Resources Management, the Greater Richmond Chamber of Commerce, and the Richmond Times-Dispatch. According to the selection criteria, the Workforce Development Award recognizes organizations "whose workforce practices generate significant results, benefits, and solutions to the professional and/or technical development of its employees, or individuals pursuing job training/retraining for either future employment or transit." "Employee satisfaction and motivation are strategic priorities for our firm every year," says Chris Little, President & CEO, "this recognition speaks to our commitment to ensuring that Dominion Digital remains a great place to work for our associates."
Dominion Digital was also a finalist in the Community Involvement category. This award acknowledges employers who "demonstrate stewardship through volunteering significant time and/or resources in support of charitable organizations, educational organizations, community service groups, and/or significant community projects or programs." As highlighted on the firm's website, Dominion Digital is "committed to supporting and enhancing the communities in which we live and work. As a community citizen, we embrace this commitment as a responsibility and privilege."
About Dominion Digital
Founded in 1997, Dominion Digital is an award-winning management and technology consulting firm that has helped scores of companies realize dramatic gains in efficiency, productivity, and value for their customers. The firm helps clients achieve these goals with an integrated approach that spans business operations, marketing, and technology. Delivering successfully on even the most demanding efforts, Dominion Digital's team of high-caliber, seasoned professionals has delivered value and satisfaction to clients such as Capital One, Bank of America, Markel Corporation, Mondial Assistance, Performance Food Group, the University of Virginia, SunTrust Mortgage, PRA International, LEXIS-NEXIS, Harvard University, Northrop Grumman, ALSTOM Power, and the U.S. Navy. Dominion Digital has been awarded the Virginia Chamber of Commerce's Fantastic 50 Award, the Ernst & Young Virginia Entrepreneur of the Year Award, and Outside magazine's annual "Best Places to Work" list of top employers across America. For more information, visit http://www.dominiondigital.com.
About the Greater Richmond Chamber of Commerce
The Greater Richmond Chamber of Commerce represents the interests of over 2000 businesses in the Richmond region. Since 1867, it has worked aggressively to effect change that allows businesses to grow and prosper. It has served as a unifying force in the region in its efforts to improve the quality of life for all.
Many of the Chamber's workforce development initiatives bring together businesses, educators, training providers, job seekers and local community organizations to identify and respond to workforce development needs in the Richmond region. These programs support the region's economic development efforts by ensuring that workers have the necessary education and work skills to meet the requirements of employers.
About the Richmond Society for Human Resource Management
Richmond SHRM is a not-for-profit association of over 1,000 human resource professionals in the greater Richmond area representing more than 800 businesses. Formed in 1958, Richmond SHRM is a super mega chapter of the national Society for Human Resource Management (SHRM) and is the second largest in the southeast. Our chapter has been awarded the Superior Merit Award every year since 1991. We promote professionalism, effectiveness, and understanding in the Human Resource Management field by offering members a wide variety of professional development opportunities and a common forum for sharing ideas and experiences.
###