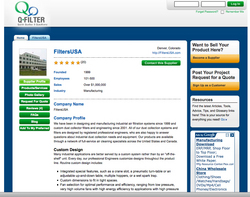 We want to change the way this industry works. By bringing the industry online in a way no other company has done...to provide customers with quick and easy access to...filter manufacturers around the world...and for suppliers...to see growth...
(PRWEB) May 20, 2010
The main feature of QFilter.com is its ability to allow customers to create projects, and then have any number of different suppliers bid on it. By allowing the customer to source several different quotes, while only filling out one RFQ (Request For Quote) form, they are ensured that they are receiving the best price possible, while also saving a great deal of time. Further, by using a system of reviews and customer satisfaction ratings, the customer can evaluate any potential supplier based on their record of service with other QFilter.com users.
In addition to its revolutionary RFQ system, QFilter.com also features a large Resource section where one can find filtration industry information in professionally authored articles, case studies, product reviews, reports, editorials, employment listings, technical papers and press releases. Also in the Resources section, is the unparalleled ability to connect with fellow industry professionals by means of the QFilter.com Forum.
By using Qfilter.com customers will receive numerous benefits that they will never find anywhere else. Such as receiving competitive pricing by sourcing filter quotes from multiple suppliers around the world all at once, an extensive resources section full of articles, case studies, industry news, and performance reviews, and the ability to speak directly with industry professionals on any number of different topics in the QFilter Forum, all through the convenience of an easy to use Website. Whether they deal in Dust Collection, Liquid Filtration, HVAC Filters, or any other filtration industry, suppliers will find that becoming a member of the QFilter.com community will bring them, access to customers in new markets, international marketing and distribution opportunities, increased search engine and internet exposure, and targeted advertising opportunities.
When asked what does his company hope to accomplish, Webmaster and Media Executive Dominick DalSanto said "We want to change the way this industry works. By bringing the industry online in a way no other company has done, we hope to raise the quality of the work done, and at the same time bring about lower prices, and better customer service through healthy competition. Our mission is to provide customers with quick and easy access to hundreds of filter manufacturers around the world. By conveniently placing the top rated vendors in one location we can effectively provide our consumers with all of the information required to make an informed decision. And for suppliers we want to enable even the local supplier, to become an international one by bring him new markets for his products by means of QFilter.com's international reach, thus allowing him to see growth in a way previously unattainable."
A detailed example of how customers can use QFilter.com to easily source multiple quotes is as follows. Consumers visit http://www.Qfilter.com and complete a free RFQ (Request For Quote) form, answering a series of questions specific to the type of filter they are interested in. QFilter.com then instantly routes the request to multiple suppliers who have an interest and capability to supply that particular type of filter. The suppliers then reply with their quote or request for additional information. The QFilter.com consolidates all of the quotes in an easy to compare format and notifies the consumer they can now view the quotes by logging in to their user account. From the user's account they can communicate with the supplier(s), and make changes to the quote before selecting one. After the supplier is given the customers contact information to finalize the transaction. The last step is for the consumer to rate the vendor on customer service, product quality, overall value and given the option of writing a personal review.
# # #