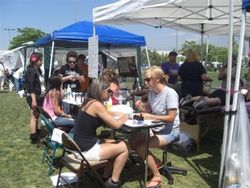 "We were so proud to support one of our students and her family at the Relay for Life," said Susan Turner.
Upland, CA (PRWEB) May 20, 2010
Salon Success Academies describes itself as a "people helping company," not only helping people in the Inland Empire earn their cosmetology and esthetics licenses, but helping local charities through fundraisers and volunteer work. That's why, when Susan Turner, Vice President of SSA, was approached by cosmetology student Heather Harris about participating in the Relay for Life event, she knew it was a great opportunity for her students to become involved in something big.
"We were so proud to support one of our students and her family at the Relay for Life," said Susan Turner. "We knew that this is a personal cause for Heather, and after meeting her cousin Jeff, we knew our students would want to support them in any way possible. "
This was the third Relay for Life that Heather's family has participated in, in honor of her cousin Jeff. Jeff was diagnosed with Stage IV Colorectal cancer at the age of 30. Heather and her family knew that they needed to do something to help fight this disease, and the Relay for Life provided them with an outlet for all of their energy and support. This year, in addition to Heather's close family and friends participating, the Salon Success Academies family joined them at Quakes Stadium, to walk for 24 hours and raise money for treatment and research.
Jeff's diagnosis originally gave him only one year to live, but he has surpassed that, and is continuing treatment. The Relay for Life and the American Cancer Society have helped Jeff and his family find treatment and hope as he fights his disease. Susan Turner had the opportunity to meet Heather's cousin Jeff at one of the Relay for Life meetings before the event, and she was touched by his humor and positive attitude.
"Jeff is going through chemo again right now, and has lost all of his hair. When I was introduced to him, the first thing he did was pull off his hat, and ask me if there was anything I could do to help him, with a big smile and laugh," she said. "He has been through so much, but he still has such a positive attitude. We are so honored that Heather and her family wanted us to participate in this event with them."
Heather is touched by the outpouring of support she has seen from the Salon Success Academies family. Her family's team is currently the top ranked fundraiser for the event, and they had over 100 people on their team this year.
"Our school has really banded together for the Relay. No one is worried about getting hours for graduation, or what they will get out of it. And they didn't only do it to help my cousin, everyone had a personal reason why they participated in the Relay," Heather explained. "They've all known someone who has been touched by cancer, and my classmates pulled their family and friends into this event to support me and each other."
The American Cancer Society's Relay for Life was an overnight event that brought people together to celebrate survivors, remember those who have passed, and fight back against cancer of all kinds. Community members formed teams, and set up campsites at the stadium. Team members took turns walking all night, participating in themed laps and games. The Relay was open to the public, and was, in a sense, a big carnival for families to visit. Each team set up fundraisers at their sites, selling food and raffle tickets, or providing fun services and games.
Heather's family has always sold ribbons, sugar cookies, and lollipops. Her siblings, cousins, aunts, and uncles all worked hard to make over 6,000 ribbons to sell at fundraising events leading up to the Relay, and at the Relay itself. Her grandmother's sugar cookie recipe was used to create treats that they sold at bake sales and at their team site. Everything was designed to honor and remember those who are battling this disease, with the various ribbon colors that represent each form of cancer.
This year, with Salon Success Academies joining the team, the on-site fundraisers included calf and back massages for weary walkers who needed a break. They also did ribbon face-painting, with bright colors and jewels. Mini-manicures were available too, if you wanted to pamper yourself a little after walking all day and night.
If you are interested in donating to the Relay for Life and helping Heather's family and Salon Success Academies reach their fundraising goal, you can view the team's online fundraising page here: http://main.acsevents.org/site/TR/RelayForLife/RFLFY10CA?team_id=592861&pg=team&fr_id=20515
Donations are still being accepted.
The event began at 9 AM on Saturday, May 15, 2010 and ended at 9 AM on Sunday, May 16, 2010. Cancer survivors were honored during the opening ceremony and survivor's lap. At 9 PM a Luminary Ceremony was held to honor and remember those who have fought cancer. People created special luminary bags in honor of a loved one for a $10 donation. The bags were then lit with tea lights, and surrounded the stadium during the ceremony.
For more information about the Relay for Life, visit http://www.relayforlife.org/ranchocucamongaca
For more information about Salon Success Academies, visit http://www.gotobeautyschool.com
About Salon Success Academies
Salon Success Academy offers five locations in California's Inland Empire, in Redlands, Fontana, Upland, San Bernardino, and Corona. Our mission at SSA involves caring for every student as a member of our family, furnishing the chance to finish their educational objectives as affordably as possible. SSA incorporates first-hand, real-world practice of the principles of cosmetology, skin care, and nail artistry. The campus teams with members of the beauty industry to ensure that graduates possess the technical and customer service skills to succeed in their careers. For more information go to http://www.gotobeautyschool.com or call 1-877-987-HAIR (4247).
About Effective Student Marketing
Effective Student Marketing, Inc. is a strategic marketing organization that specializes in generating student leads and enrollments for career, technical, and vocational schools across the country through the use of Internet marketing tools and techniques.
The team at ESM combines experience working on the school-side with skills in the latest technology to create programs that can meet any school's needs. Student marketing and recruitment programs can include online reputation management, social media marketing, cost per lead vendor management, search engine advertising, search engine optimization, and e-newsletter production and distribution. For more information, go to http://www.effectivestudentmarketing.com.
###