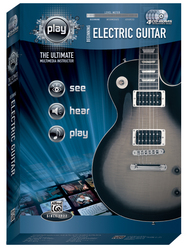 Los Angeles, CA (Vocus) May 19, 2010
Alfred Music Publishing, the world's leading educational music publisher since 1922, is proud to present a new educational multimedia series that allows music makers of all ages the ability to experience learning to play music in a totally new way: introducing the PLAY series.
Alfred's PLAY series combines the convenience of multimedia lessons with the quality of proven expert instructors that teach you all the right stuff at just the right pace. Providing three ways to learn in every package, The PLAY series contains high-quality digital video that shows step-by-step lessons—complete with chord diagrams and close-ups—use Alfred's innovative GuitarView software to slow down or speed up the audio and displays note names, finger numbers, or scale degrees on an animated guitar neck that's perfectly synched with each lesson, and follow along in the included printable eBook that correlates with each lesson. Guitarist of all skills levels can also enjoy bonus features such as ChordXpress LE and a fully interactive tuner, providing even more useful tools.
Whether you're into rock, jazz, blues, folk, country, or a little bit of everything, Alfred's PLAY series has all the resources you need at the click of a button.
DVD Titles:
PLAY: Acoustic Guitar 1
PLAY: Acoustic Guitar 2
PLAY: Blues Guitar 1
PLAY: Blues Guitar 2
PLAY: Jazz Guitar 1
PLAY: Jazz Guitar 2
PLAY: Rock Guitar 1
PLAY: Rock Guitar 2
PLAY: Guitar Basics
PLAY: Electric Bass Basics
PLAY: Keyboard Basics
CD-ROM Titles
PLAY: Beginning Acoustic Guitar
PLAY: Beginning Electric Guitar
PLAY: Beginning Blues Guitar
PLAY: Beginning Jazz Guitar
PLAY: Beginning Rock Guitar
PLAY: Electric Bass Basics
View video previews, download free demo lessons, and more by visiting alfred.com/play. Purchase your copies at a local music retail store, or buy them today.
###