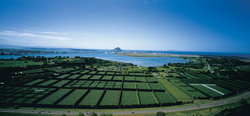 Enter to win a trip for four to New Zealand in honor of the 100th anniversary of New Zealand's first kiwifruit harvest.
San Francisco, CA (PRWEB) May 19, 2010
To celebrate the 100th anniversary of the first kiwifruit harvest and to generate excitement throughout the 2010 season, ZESPRI® Kiwifruit has launched The Great Kiwi Adventure sweepstakes. Offering a Grand Prize of a trip for four to New Zealand (ARV $10,000), including roundtrip airfare to the heart of kiwifruit country, the Bay of Plenty, seven nights accommodation and numerous day trips, The Great Kiwi Adventure is open to U.S. residents aged 18 and over, and runs throughout the ZESPRI® season, from May 17th through October 31st, 2010.
To jumpstart consumer participation, ZESPRI's Kiwi A-Go-Go Bloggers' Contest challenges bloggers to creatively showcase kiwis--the fruit or country--and the ZESPRI consumer sweepstakes (for which one consumer sweepstakes, one lucky winner will be drawn at random from the consumer entry pool in early November).
Bloggers face tougher criteria, with posts being evaluated monthly based on creativity and content. (Complete blogger rules and information available on ZESPRI's website.) A panel of judges will select the winner from among six semi-finalists in early November, with the prize package of a trip for four to New Zealand the same as the consumer sweepstakes. Air New Zealand and Tourism Bay of Plenty are promotion partners.
The Great Kiwi Adventure and ZESPRI's Kiwi A-Go-Go Bloggers' Contest drive home the ZESPRI difference: with 2,700+ dedicated growers and unparalleled, regulated growing systems in place, ZESPRI® delivers the product dependability and accountability demanded by consumers and retailers, along with an internationally recognized brand of flavorful, consistently high quality GREEN and GOLD Kiwifruit.
For more information, follow ZESPRI® on http://www.facebook.com/ZESPRIkiwifruit and http://twitter.com/ZESPRIkiwifruit.
###