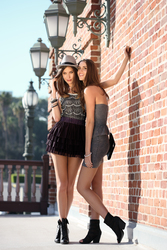 "We are honored to be part of the YMI campaign, 'Smashing Bottles' has an uplifting fun theme that fits perfect into the video."
Los Angeles, CA (PRWEB) May 19, 2010
Chart topping recording artists, Dr. Hollywood, are lending their upcoming single, "Smashing Bottles," to YMI's upcoming Fall 2010 Campaign Video. The song, featured on their upcoming album, is sure to become an instant party anthem that not only embodies the musical pulse that Dr. Hollywood pumps, but the fun loving, outgoing persona that is the YMI consumer. Appropriate for a group that climbed to the top of the charts with the hit song "We Run L.A", the campaign video was shot on location at Olvera Street, located in the heart of Downtown Los Angeles. Excited about the collaboration, Dr. Hollywood's Lex Larson says, "We are honored to be part of the YMI campaign, 'Smashing Bottles' has an uplifting fun theme that fits perfect into the video."
The video features a behind the scenes look at two YMI clad models as they take a break from their photo shoot to discover this historic area of L.A. As the models let loose "Smashing Bottles" lyrically narrates their journey. The group's ability to create chart topping hits that garner massive radio play gives YMI the opportunity to allow its product to be reinforced in the consumers mind each and every time they hear a Dr. Hollywood hit such as; "Smashing Bottles", "We Run L.A. or "Breakfast at Tiffany's" on their local radio station.
About Dr. Hollywood
Unique to the music scene, Dr. Hollywood lead singer Louie Rubio and rapper Lex Larson are the only unsigned artists on national rotation for major radio stations such as KIIS FM and Power 106 FM with their smash hit "We Run L.A." The duo originally formed Dr. Hollywood to produce for other local talent. The duo then partnered with Grammy-winner Richard "Segal" Huredia and began to work on their brand of electro-rap. Their first single "We Run L.A." quickly became a smash hit and the theme for the L.A. Lakers; it still enjoys extensive radio rotation into the summer of 2010.
In February 2010 they released their self-titled debut EP full of party anthems that flaunt infectious melodies. Bloggers have dubbed the EP as "habit forming", a "must buy" and "dangerously catchy." They are currently working on their full album: "Escape From Paradise", which features their latest single "Breakfast at Tiffany's" (ft. Shwayze). Debuting summer of 2010. Lex and Louie's Dr. Hollywood U.S. exposure keeps increasing, being positioned as ESPN's theme song, and through popular television commercials for Nivea, and series such as, HBO's Go, ABC's Lincoln Heights, Bones, 90210, ad campaign for YMI, and MTV's Bad Girls Club. Past performances have included opening for Katy Perry on New Year's Eve and LMFAO.
About YMI
YMI is one of the leading nationally advertised junior/young contemporary brands. The corporate office and distribution facility are located in the heart of the downtown Los Angeles fashion district. YMI is distributed at better department and specialty stores nationwide. With its roots in denim YMI is rapidly expanding its product offerings across multiple product categories. For more information, please visit http://www.ymijeans.com.
###