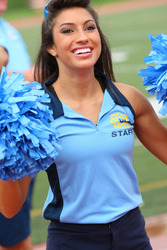 I credit the growth of our camps over the years to the staff effort to be the best at what we do
Memphis, Tenn. (Vocus) May 19, 2010
Universal Cheerleaders Association (UCA), the leading educational organization in the cheerleading industry, is celebrating the 35th anniversary of its first camp season this summer at camps across the country.
In 1975, UCA's 20 instructors led by founder and CEO Jeff Webb, taught 5,000 campers at 20 locations across the South and Midwest. Today, over 1,500 instructors train more than 200,000 cheerleaders at more than 3,500 sessions across the United States. Cheerleaders are taught spirit leading essentials like game cheers and pep rally fundamentals as well as proper stunting progressions part of a highly acclaimed Safety Awareness Program.
UCA has also worked closely with the American Association of Cheerleading Coaches and Administrators (AACCA) to create a camp curriculum that addresses the needs of cheerleading coaches. More than 20,000 coaches learn cheerleading fundamentals as part of the Coach's Education Program, and coaches who complete the course receive $1 million in additional liability coverage.
"I credit the growth of our camps over the years to the staff effort to be the best at what we do," says Webb. "As an organization, we strive to ensure that everything on our curriculum is taught in a thorough manner with an eye on the safest instruction possible. This summer, we'll celebrate what we do well, but we will always be looking for ways to do what we do better."
UCA remains the largest brand under the Varsity banner. Varsity is comprised of six educational and fifteen competition divisions. Together, they are the largest group providing opportunities for cheerleaders and dance team members to learn new skills, perfect the basics and have the opportunity to compete at a regional and national level.
To find out more about UCA camps, visit http://uca.varsity.com. For information about AACCA, please visit http://www.aacca.org.
About Varsity
Varsity is the source for all things related to cheerleading and dance team. With a rich heritage and traditions dating back to 1948, Varsity is an innovative global leader comprised of the leading spirit brands and organizations including its educational camps, clinics, competitions and uniforms to teams around the world. Varsity's National Championships, which are held at the Walt Disney World® Resorts, have been televised on ESPN Networks for more than 25 years. Sponsors of Varsity events include Gatorade and Nike. Web-based Varsity TV features thousands of cheerleading and dance team videos and has become a favorite cheer destination for cheerleaders and coaches alike. Varsity has led the way in cheerleading safety as a supporter of the American Association of Cheerleading Coaches and Administrators since 1988 and as a camp leader training nearly 350,000 cheerleaders per year in cheerleading fundamentals with an emphasis on safety. Based in Memphis, Tennessee, Varsity employs 5,000 employees nationwide. For more information about Varsity, please visit http://www.varsity.com.
###