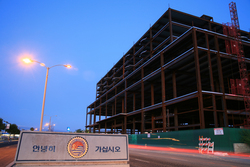 San Diego, CA (PRWEB) May 19, 2010
Douglas Wilson Companies (DWC) has been named court-appointed receiver for the eight-story, 126,510-square-foot Garden Grove Galleria in Garden Grove, Calif.
Located at 10080 Garden Grove Blvd., the structure's first four levels feature two, double-height commercial floors at the front, with four floors of parking at the rear. The fifth floor will be used for parking while floors six through eight will offer 66 residential condominiums.
"The Garden Grove Galleria mixed-use property has the potential to become an anchor project and economic engine for this section of Garden Grove's Korean District," said CEO Douglas Wilson.
As court appointed receiver, DWC is responsible for operating, preserving and managing the partially constructed building.
Based in San Diego, Calif., Douglas Wilson Companies (http://www.douglaswilson.com/) operates six offices around the United States, including Atlanta, Las Vegas, Miami, Orlando and San Francisco. To date, the company has provided problem resolution for more than 600 projects involving assets valued in excess of $12 billion.
MORE ABOUT DOUGLAS WILSON COMPANIES
Founded in 1989, Douglas Wilson Companies is one of the largest firms of its kind, providing a wide range of specialized business and real estate services to law firms, state and federal courts, corporations, partnerships, pension funds, REITS, financial institutions and property owners nationwide.
Services include workout and problem resolution, crisis/force majeure response, asset management, consulting, business planning, forensic accounting, receivership, development, entitlement, and construction management.
###