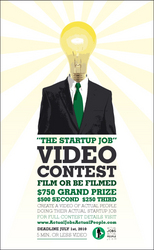 Your website made me chokey and well-up, it is just very cool. I like what I see and I feel. I am drawn in...they are real people, my kind!
Lake Oswego, OR (PRWEB) May 19, 2010
Find Startups in Unique Locations. Look for Special People working at Exciting Startups. Many Uncommon Jobs are created at Startups.
The first five accepted video submissions will receive a $50 Gift Certificate for Staples Office Supply
$750 - First Place
$500 - Second Place
$250 - Third Place
We want to see people at their job and have them tell us about the experience they are having.
WHAT WE'RE LOOKING FOR:

A well lit video that is no longer than 5 minutes in length with clear sound.
The video can be of you or anyone you know that you have written permission to record.
Subject of your video must be an Actual Person at their Actual Start Up Job.
For samples of other acceptable videos go to: actualjobsactualpeople.com
Submissions must be received by 11:59pm PST on July 1st, 2010.
SUBMIT YOUR VIDEO AT: ActualJobsActualPeople.com
###