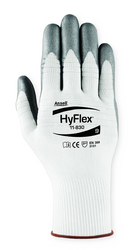 Ansell developed HyFlex 11-830 to present workers with a glove that offers comfort, but also encourages worker compliance.
Red Bank, N.J. (PRWEB) May 19, 2010
Ansell Limited, a global leader in hand protection, is pleased to introduce HyFlex® 11-830, an ergonomically designed glove that incorporates Zonz™Knit Advanced Comfort Technology for unprecedented comfort and fit.
"Ansell developed HyFlex 11-830 to present workers with a glove that offers comfort, but also encourages worker compliance," said Keitha Kessler, Ansell marketing manager, Ergonomic products. "ZonzKnit Advanced Comfort Technology uses a patented knitting process with varying stitch designs that enhances glove stretch — especially in the knuckle area — for maximum flexibility and dexterity."
This visible open stitch allows for better hand ventilation, ensuring greater breathability and all-day comfort. An Enhanced Cuff Overedge (ECO) providing more elasticity in the cuff area to ease donning and doffing, with Ansell's D3 pinky design replicating the natural contour of the hand to create a natural fit.
Ansell's new foam nitrile metallic gray coating provides abrasion protection and a sure grip for workers handling objects in light oil or dry environments. The metallic coating extends product wear life and provides a distinctive modern look for quick and easy identification.
HyFlex 11-830 gloves are launderable, with minimal shrinkage and excellent recovery to extend service life. They are recommended for a range of applications, including maintenance; inspection; wiring; final assembly; handling of small nuts, bolts and screws; driving; packaging; and warehousing.
For more information about HyFlex 11-830 gloves, visit http://www.ansellzonz.com or call 1-888-4-HYFLEX.
About Ansell
Celebrating more than 100 years, Ansell has long been recognized for the innovations and leadership it has provided the hand protection and safety apparel industry. Besides high quality products, the company offers a comprehensive business solutions approach to help manufacturers achieve their cost reduction mandates. Ansell personal protective clothing (PPC) specialists work directly with corporate and plant representatives to develop highly effective programs with quantifiable results.
With its regional U.S. headquarters located in Red Bank, New Jersey and with operations in Canada, Latin America, Europe, Asia and Australia, Ansell serves a wide range of industries, including chemical manufacturing and refining, automotive, food processing, general industrial, pharmaceutical, pulp and paper, construction, white goods, semiconductor and electronics manufacturing, and primary metals.
For more information about Ansell's strategic business solutions and portfolio of protective gloves and apparel, visit http://www.ansellpro.com or call 800.800.0444.
HyFlex® and Zonz™Knit are trademarks of Ansell Limited. ©2010 Ansell Limited. All Rights Reserved.
###