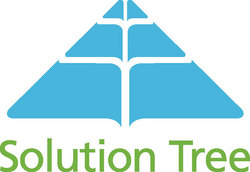 The AEP named six Solution Tree resources finalists for Distinguished Achievement Awards in the Professional Development category
Bloomington, IN (PRWEB) May 20, 2010
Solution Tree, a leading provider of educational professional development, will be honored among the best publishers and marketers at this year's Association of Educational Publisher s Annual Awards Banquet in Washington, D.C., on June 8.
The AEP named six Solution Tree resources finalists for Distinguished Achievement Awards in the Professional Development category: The Teacher as Assessment Leader edited by Thomas R. Guskey; Assertive Discipline®: Positive Behavior Management for Today's Classroom by Lee Canter; Making Math Accessible to English Language Learners, Grades 9–12 by r4 Educated Solutions (copublished with r4 Educated Solutions); 40 Reading Intervention Strategies for K–6 Students by Elaine McEwan-Adkins; Beyond the RTI Pyramid by William Bender; and Collaborative Teams in Professional Learning Communities at Work™, a video by Richard DuFour, Rebecca DuFour, Robert Eaker, and Thomas Many. Winners will be announced at the June 8 banquet.
No stranger to the AEP stage, Solution Tree earned two Distinguished Achievement Awards in 2009. Why Culture Counts: Teaching Children of Poverty by Donna Walker Tileston and Sandra K. Darling won in the Professional Development/Education Equity category. Power Tools for Adolescent Literacy: Strategies for Learning by Jan Rozzelle and Carol Scearce took top honors in the Professional Development/Guided Reading category.
About Solution Tree
Solution Tree is the nation's leading provider of comprehensive, research-based professional development solutions for K–12 educators. For more than 20 years, Solution Tree has worked with the world's premier authors and brightest minds in education. The company transforms education by empowering educators to successfully address today's most challenging problems and to create schools where all students succeed. Learn more at http://www.solution-tree.com.
# # #