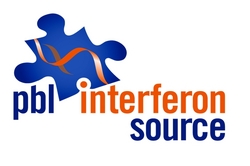 PBL InterferonSource serves as a highly dependable resource for interferon researchers.
Piscataway, NJ (PRWEB) May 20, 2010
For all things interferon, researchers now have a new web destination. PBL InterferonSource, the world's leading interferon expert for life science researchers, has launched a revamped website (http://www.InterferonSource.com) with an all-new design, including an interferon research knowledgebase, a scientific forum, and e-commerce capability.
The new website is the product of a major initiative of the company: to serve as a highly dependable resource for interferon researchers.
The company, comprised of scientists focused solely on interferon- and cytokine-related research, has the right size and flexibility, and the right experience, knowledge, and tools, to be of tremendous value to researchers in the field. Its unique, individualized approach to clients enables the company to interact with them as scientific peers, not arms-length business customers. The new website aims to facilitate these peer-to-peer customer interactions.
PBL InterferonSource continues each year to invest in research and development, furthering its ability to serve as the knowledge resource and supplier of the best interferon-related products and services to scientists around the world. To see what's happening in the world of interferons, please contact us at info(at)interferonsource(dot)com, or visit http://www.interferonsource.com.
PBL InterferonSource, a division of Pestka Biomedical Laboratories, Inc. based in Piscataway, NJ, is the world's leading interferon expert for life science research offering interferon and related products, assay services, and consulting to the biomedical research community.
Certain statements contained herein, including statements regarding development of the Company's products, services, markets, and future demands for the Company's products and services, and other statements regarding matters that are not historical facts, are forward-looking statements. Such forward-looking statements include risks and uncertainties; consequently, actual results may differ materially from those expressed or implied thereby.
###