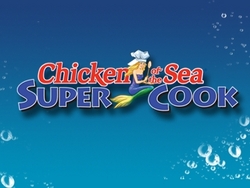 SuperCook is more than a recipe contest, it's the chance for our consumers to tell us how they use our products. Chicken of the Sea is a staple item in kitchens across the country and it's used every day to make simple, yet healthy and delicious meals
Pompano Beach, FL (PRWEB) May 20, 2010
Hit morning show airing on Lifetime Television "The Balancing Act," and Chicken of the Sea are challenging America to get creative with shelf-stable seafood in a search for the Chicken of the Sea SuperCook, someone who can turn simple dishes into super meals.
Home cooks across the country are invited to share their original recipes using any Chicken of the Sea product for a chance to win the grand prize: an appearance on "The Balancing Act," a $10,000 cash prize and a feature on a Chicken of the Sea product package. One first-place winner will receive $3,000 and also be featured on a product package. Second- and third-place winners will receive a $2,500 and $2,000 cash prize, respectively.
"SuperCook is more than a recipe contest, it's the chance for our consumers to tell us how they use our products. Chicken of the Sea is a staple item in kitchens across the country and it's used every day to make simple, yet healthy and delicious meals," said John Sawyer, senior vice president of sales and marketing for Chicken of the Sea. "Seafood is an important and vital part of a well-balanced diet and is a great source of protein and heart-healthy omega-3s. Together with 'The Balancing Act,' we are asking Americans to get creative and tell us how they make simple, but wonderful meals that fit into their busy lives."
According to the American Heart Association, American Diabetes Association, American Medical Association and USDA, seafood should be included in the diet twice a week to help improve overall health, as research shows it helps protect against heart attack, diabetes and stroke. Seafood -- which is low in fat, cholesterol and calories -- has also been shown to combat obesity, decrease blood pressure and improve circulation.
SUPERCOOK CONTEST
To enter, participants must be at least 18 years old and are encouraged to visit http://www.TheBalancingAct.com/contest to submit:

An original recipe featuring a Chicken of the Sea product
A 400-word or less essay on why they are someone who can turn simple Chicken of the Sea dishes into super meals that are healthy, nutritious and convenient
A photo of themselves
Winners are judged on: recipe creativity; use of Chicken of the Sea product in the recipe; embodiment of Chicken of the Sea's brand assets of health, nutrition and convenience; and taste and appearance of recipe. The SuperCook contest began May 15 and ends Aug. 15 at 11:59 p.m.
To learn more about the SuperCook contest or to submit an entry, visit http://www.ChickenOfTheSea.com or http://www.TheBalancingAct.com/contest. To learn more about the many healthful benefits of seafood, or for recipe ideas, visit http://www.ChickenOfTheSea.com.
A seafood category leader, Chicken of the Sea provides a variety of shelf-stable seafood products, including tuna, salmon, crab, shrimp, oysters, clams, mackerel and sardines. The Chicken of the Sea brand and famous Mermaid icon are among the most recognized brands in America.
About The Balancing Act: The Balancing Act TV show airs on Lifetime Television at 7:00am (ET/PT) -- and is America's premier morning show that's about women, for women, and trusted by women. Celebrating life and all there is to accomplish, The Balancing Act inspires and empowers with entertaining and educational segments, placing women in the best position to achieve success in every area of their lives. For additional information or to view a segment, visit http://www.TheBalancingAct.com. To sign up for the show's newsletter go to http://www.thebalancingact.com/join.php. For more details about The Balancing Act, LLC please visit parent company O2 Media Inc. at http://www.o2mediainc.com.
Don't forget to follow us on Facebook, Twitter, and YouTube!
###