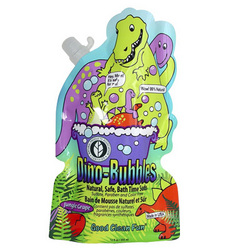 As a parent, I have been well aware of the allure of products marketed to kids and as a chemist, I wanted to create a formula and product that not only appealed to them but would be good for them and not harmful to their bodies
Watsonville, CA (PRWEB) May 19, 2010
For parents searching for natural bath alternatives for their toddlers and children, Smith & Vandiver has a solution. Bath time can now be naturally fun with the new NPA certified natural bath time suds - Good Clean Fun Dino-Bubbles and Ducky- Bubbles. These two fun foaming formulas are totally safe for young skin and created especially for kids age's two to ten.
There are lots of natural and organic baby products on the market, and lots of safe products for adults, but until now the 2-10 year old crowd has been forgotten. And what self-respecting seven-year-old wants to use a product marked "baby"? Dino and Ducky Bubbles make bath time fun and age appropriate for the 2-10 year old crowd while letting Mom rest easy that she's doing the right thing with safe, certified natural products.
Some of the features and benefits include:

PH balanced to be gentle and non-irritating to the skin and eyes.
Certified Natural, meeting the Natural Products Association's audited standard, which insures 95%+ natural content with any synthetic or processed ingredients are safe.
o Sulfate-free and non-toxic to small livers
o Phalate-free certified natural fragrance
o Paraben and formaldehyde free

Contain no colors, synthetic fragrances or animal by-products
Made in the USA
As one of the original leaders in the natural category, Smith & Vandiver is committed to developing a completely safe, non-toxic bubble bath formula that is fun and engaging for kids.
"As a parent, I have been well aware of the allure of products marketed to kids and as a chemist, I wanted to create a formula and product that not only appealed to them but would be good for them and not harmful to their bodies," commented Alida Stevens, founder of S&V. "In addition to protecting their skin, we want to protect their future as well. As with all our products, we are very committed to the environment, utilizing biodegradable and recycled materials whenever possible."
The Good Clean Fun Bubbles are packed in colorful squishy pouches are made with 82% less plastic to go into a landfill if not recycled. This combined with a biodegradable formula, ensures that the products leave a small footprint.
For more fun in the tub, Good Clean Fun's fizzy friends, Dino-Fizz, Prince or Frog, and Party Ducky are a delight. These bubbly effervescent treats fill the tub with a skin safe, natural scent as they bob and bounce. While they fizz away, the bubbles release skin-softening conditioners blended specifically for young, sensitive skin. Once they dissolve, a special surprise is revealed as a dinosaur, duck, prince or a frog pops out and floats to the top.
Parents can feel completely comfortable and confident that these unique treats are totally safe. Made in the United States with top quality ingredients, the fizzies are pH balanced and sulfate, synthetic fragrance, and paraben-free. They contain no ethoxylated ingredients, formaldehyde or dioxane donors.
All of the Good Clean Fun Fizzy bath treats make perfect birthday favors, stocking stuffers and good behavior rewards. They can transform everyday bath time battles into good clean fun.
The Good Clean Fun Collection includes:

Dino-Bubbles - Jungle Grape
Ducky-Bubbles - a fruity "Marsh Melon"
Dino-Fizz - with three collectible "baby" dinos Tyrannosaurus, Apatosaurus, or Stegosaurus
Prince or Frog - which is in your future?
Bath Party with a pop up Ducky in a party hat
Bubbles and Bath Fizzies are available at grocery, chain drug, and mass-market retailers, specialty stores and natural stores across the country and on-line at http://www.svnaturally.com. The suggested retail price for Good Clean Fun Bubbles is $6.99 for a 12.5 oz. package and Bath Fizzies are $1.59 each or $14.99 for a value pack of 12.
About Smith & Vandiver
Smith & Vandiver was founded in 1979 by Alida Stevens. Since its inception, the company has been crafting wholesome, cruelty-free body products that feel luxurious while being safe for everyone and respecting Mother Nature. The company strives to use the best sustainable and environmental practices throughout all aspects of the business, while making the best natural and organic bath, body, skincare and children's products made in the U.S. The company is located in Watsonville, California on California's Monterey Bay.
###