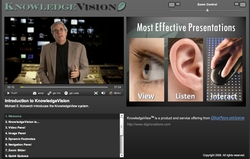 The addition of KnowledgeVision Live rounds out our offerings so companies and organizations can choose to create presentations in conjunction with scheduled events
Concord, MA (PRWEB) May 19, 2010
KnowledgeVision Systems, which markets an enterprise solution for creating synchronized video presentations, today announced KnowledgeVision Live, a significant expansion of the KnowledgeVision platform which combines PowerPoint, images, and related links with live streaming video. With the announcement of KnowledgeVision Live, KnowledgeVision now offers a powerful way to communicate, both live and on-demand, with customers, employees, partners, and prospects. With KnowledgeVision's easy-to-use production tools, KnowledgeVision customers can originate live or on-demand web presentations from any web browser in the world, without using special hardware, and deliver it to any Flash-enabled page they control on the World Wide Web.
KnowledgeVision Live is a premium feature of KnowledgeVision Studio, a suite of services that enable companies and organizations to add context to online video. A growing number of clients use KnowledgeVision to replicate, via web video and a Flash-based player one of the most common and effective forms of business communication: a personal presentation combined with slides emphasizing and illustrating key points. The introduction of KnowledgeVision Live complements KnowledgeVision's popular on-demand application. KnowledgeVision Live is the best option for companies and organizations interested in broadcasting live to geographically distributed group without the complexity and cost of traditional web conferencing systems.
The advanced design tools enable clients to create a layout that reflects their brand and overall web site navigation. KnowledgeVision Live presentations can be hosted or embedded in any web page. A "zoom control" can be used to emphasize either the video panel or the slides during the presentation. The zoom changes can be programmed into the presentation or used by the viewer at any time. The resulting presentation is published on the web using Adobe's Flash player which means it's accessible to nearly all web browsers without the need for a plug-in or downloaded program.
KnowledgeVision's authoring tools emphasize simplicity. Creating a KnowledgeVision presentation is exactly the same as making a presentation in person. With the click of a mouse, KVStudio records the cue points used to preserve the transitions for each slide. The cue points can be set by the presenter live, or after the video has been recorded and uploaded. And unlike expensive video editing programs, the cue points and sequence of slides can be edited later if the video or content in the slides needs to be updated.
KnowledgeVision Live works in conjunction with existing streaming media providers and a custom integration with the Brightcove online video platform using Brightcove's Media APIs. Companies that have internals systems based on Flash media server can also use KnowledgeVision Live.
"Providing a framework around Powerpoint, an asset that nearly every company has and is comfortable using to emphasize key business messages, makes KnowledgeVision a straightforward approach to providing richer, more engaging forms of communications" says Rusty Williams, President of KnowledgeVision. "We're focused on making this process simple, flexible and cost effective using existing tools and content."
"The addition of KnowledgeVision Live rounds out our offerings so companies and organizations can choose to create presentations in conjunction with scheduled events or use prerecorded video synchronized with Powerpoint, links and integrated calls to action."
A recent report by Aberdeen Group listed the top pressures driving the adoption of business video. 50% of companies cited a need to communicate with remote employees and 47% said they want to reduce the cost and time associated with business travel. Presentations created with KnowledgeVision - both live and on-demand -- address both of these needs.
KnowledgeVision is scheduling group and one-on-one demonstrations of KnowledgeVision Live. For a schedule of demonstrations, or to request a demo for your company, visit http://www.knowledgevision.com/live.
About KnowledgeVision Systems
Based in Concord Massachusetts, KnowledgeVision serves the world's growing need for on-demand and live knowledge by creating rich, engaging Flash presentations that are viewable on the web at any time with any type of computer. KnowledgeVision's hosted authoring tool, KVStudio, enables communication professionals to create presentations that tightly synchronize video, PowerPoint, images, and dynamic footnotes. KnowledgeVision Presentations are used for on-demand training, product demonstrations, marketing, sales, investor relations, and preserving the value of in-person presentations made by companies and organizations around the world.
###