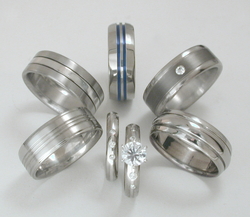 They call titanium the 'space age metal.' We use it to make space age jewelry.
Kihei, HI (PRWEB) May 19, 2010
To consumers searching for a ring, TiRings.com is announcing the answer to their biggest concern: which type of ring will survive the rigors of life. The online design studio is offering the "all-purpose" ring; rings constructed primarily of titanium that are impervious to almost all conditions, yet feature a magnificent silver luster.
"They call titanium the 'space age metal.' We use it to make space age jewelry," says the chief designer at TiRings.com, Eric Pless.
The titanium rings created by the studio feature a unique combination of properties that no other metal can match. They resist wear-through (unlike gold), scratches and dulling (unlike platinum), corrosion (unlike most metals) and are extremely strong. Among their other characteristics are their bio-compatibility, which in lay terms means that they're non-toxic and cannot react with the skin or body. The titanium rings are lightweight, with a luminescent silver color. TiRings.com uses only the finest aircraft grade titanium to achieve these results.
"I searched for years for the perfect metal in which to make my designs," says Pless. "First and foremost, it had to be beautiful, but it also had to be able to handle any condition and be adaptable enough to be used with other metals and gems. When I first worked with it, I discovered titanium had all that and more. It was a 'Eureka' moment, pun not intended."
The catalog of titanium rings are on display at TiRings.com, and include diamond engagement rings, promise rings, inlayed rings (metals such as gold and platinum protected by titanium), and Celtic rings, among others.
Pless says that none of the traditional jewelry materials carry all the advantages of titanium. For example, platinum rings are susceptible to scratches, chemicals and exposure, which ruins the facade. Its heaviness means that it is common for platinum to slide off the finger while swimming and become lost. Meanwhile, gold rings wear through over time, are also heavy, and depending on their alloy composition, can cause allergic reactions. And the higher the purity of the gold, the softer and thus more vulnerable to damage. To top it off, rhodium plating, in some cases, is something that will need to be replaced every few years on a white gold ring in order to protect it.
"The fact is, a titanium-based ring won't hold you back from anything you want to do. You can swim in oceans or pools, go hiking, travel in desert or arctic conditions, or just do jobs around the house, anything, and none of that is going to affect a titanium ring. And there's none of the annoying maintenance involved, like with other metals, either. That's why we refer to titanium rings as 'all-purpose.'"
Titanium is a relatively new metal, having only been used in applications from the 20th century onwards. It is expensive to produce, which limits its use to important functions, such as pacemakers and other implants, prosthetic limbs, high-tech aircraft, and so on. Only in the past decade has it been used widely in jewelry.
Asked what kind of people are attracted by titanium rings, Pless says that the demographic is broad in terms of age and gender, but it does tend to be noticed by particular personality types.
"It's a smart, practical ring for smart, practical people."
###