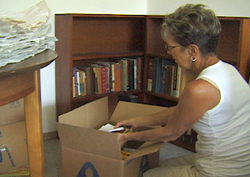 SASH was a godsend - I honestly don't see how they could do anything more. When SASH says they're going to do something, they do it. Bobbie Benjamin - SASH Client
Seattle, WA (PRWEB) May 19, 2010
Bobbie Benjamin and her husband Del had lived in the same home for over 26 years, and were prominent members of their community. The Benjamins had been planning to relocate into a retirement community, but the facility was still under construction. Bobbie and Del had made a down payment many months before, reserving a place where they could live out their days together.
But the Benjamins faced a problem that is all too common for seniors in their situation: From a financial perspective, they needed to sell their home before they moved. But where would they live if their home sold before the new residence was ready? On the other hand, if their home did not sell quickly, they would have to make double payments. To complicate matters, their house was filled with objects that had been accumulated over a period of 26 years, and the whole downsizing process seemed terribly overwhelming.
The SASH Program was founded in 2005 by Rebecca Bomann, a real estate professional with a background in social work, after helping her own Grandfather to sell his home. Ms. Bomann thought there should be a less stressful and more dignified way for seniors to sell their homes, and so she started SASH. The SASH Program provides seniors with a private and custom-designed home sale service, allowing them to bypass the stress and unknowns of a conventional market sale. Each senior client of SASH is treated with integrity, respect, and dignity as evidenced by testimonials from former clients and their families.
Bobbie heard about The SASH Program from a neighbor who recommended their service. SASH met with the Benjamins, took the time to learn about their home sale needs, and made an offer which was accepted. "We were extremely grateful to be the ones helping the Benjamins through their home sale," stated Rebecca Bomann, CEO and Founder of SASH. "Had they been selling on the regular market, Bobbie and Del would have either had to 'double-pay' if the home did not sell quickly enough, or be without a place to stay if the home sold before the room was ready. This is a common dilemma for senior homeowners who need to know exactly when their home will sell to make a smooth transition to their new home. SASH provides that for seniors."
Then tragedy struck and Del suffered a bad fall, passing away a day later from complications. This was a devastating blow to Bobbie, not only because she had been married to Del for 67 years, but also because they had planned to enjoy their new home together. But since Bobbie was selling her home in a private sale to SASH, she could concentrate on organizing the estate and preparing services for her husband, knowing the home sale was taken care of. "From the very first visit we were made to feel special," said Bobbie. "The SASH team couldn't have been more helpful. My husband and I had decided to use SASH from their first visit, but then my husband passed away suddenly. SASH was a godsend! If I didn't understand some procedure or such, they used utmost patience and made sure I understood. I would highly recommend SASH, and I have to many, many people." (See this SASH Video Clip for more comments from Bobbie about her home sale.)
Four months later, Bobbie received word her room was ready. She enjoyed the complete packing and moving services that SASH provided, and by the afternoon of moving day, her new room was completely unpacked. Pictures were hung, her clothes were on hangers in the closet, and sentimental objects were displayed beautifully throughout her new room. When asked how SASH could improve its services Bobbie said, "I honestly don't see how they could do anything more. When SASH says they're going to do something, they do it."
 
Seniors and their families interested in learning more about The SASH Program's private, custom-designed senior home sale service can visit http://www.sashprogram.com, or call 888-400-SASH for more information.
Follow SASH on Twitter: http://www.twitter.com/sashprogram
Become a SASH Fan on Facebook: http://www.facebook.com/sashprogram
View the SASH Channel on YouTube: http://www.youtube.com/sashprogram
About The SASH Program and Rebecca Bomann:
SASH (Sell A Senior's Home) provides private and easy home sales for seniors who are seeking to downsize without the stress, work, and unknowns of the regular real estate market. With an outstanding track record of high quality senior care service since this innovative service was founded in 2006, SASH has become a leader in the local elder care community. SASH's vision for seniors was created out of the founder's own experience with her grandfather's difficult home sale. SASH's success is due to its uncommon blend of three industries: Social work, real estate, and senior care.
# # #