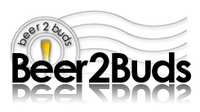 The app allows you to not only send a virtual beer, but REAL beer, and to multiple friends in different locations
Seattle, WA (PRWEB) May 19, 2010
In celebration of American Craft Brew Week, Beer2Buds is pleased to announce the launch of a new Facebook app that allows Facebook users to buy a round of beers for their friends.
Beer2Buds already allows people to buy beer for their friends online through its website. Now Facebook users can buy real beers for their friends of legal drinking age. To buy a round of beer, simply add the Beer2Buds Buy-a-Round app and choose which friends will receive a drink on you. Friends will be able to redeem their free beer at participating bars & restaurants across the world.
"We're excited to celebrate American Craft Beer week by providing a way for friends to send each other a craft beer online using the world's largest online social platform (Facebook). The app allows you to not only send a virtual beer, but REAL beer, and to multiple friends in different locations," said Libby tucker, CEO of Beer2Buds.
Beer2Buds is a new start-up based in Seattle with a rapidly growing list of participating locations worldwide. Inspiration came from the desire to stay connected with friends over a cold one when you couldn't be there to share.
Contact:
Dustin Woodard
VP of Marketing
Beer2Buds
Seattle, WA
dustin(at)beer2buds(dot)com
Ph: 206.334.3878
# # #