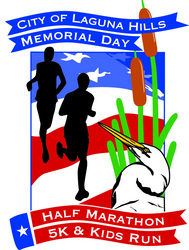 "People love to see Ole Glory fly by. It offers inspiration and hope to other runners and spectators at the races. I make sure the American Flag is flown at every race I'm in." Lt. Kirby W. Mills
Laguna Hills, CA (PRWEB) May 20, 2010
Saddleback Memorial Medical Center is the Presenting Sponsor of the Laguna Hills Half Marathon. "The Memorial Day Half Marathon has become a signature event in Orange County and we applaud the City of Laguna Hills for continuing the tradition," says Steve Geidt, chief executive officer, Saddleback Memorial Medical Center. "The event brings the community together and gets people moving. We are pleased to be able to support the race and all it does in promoting health for the participants. And most importantly, we want to wish great success and safety to all the runners."
These Colors Run
Lt. Kirby W. Mills is currently stationed at Camp Pendleton and is leading the effort to bring Ole Glory to the Laguna Hills Half Marathon. He, along with a group of his fellow servicemen, will carry several flags throughout the entire race, including those of the United States, US Marine Corps, US Navy, US Army, US Air Force, US Coast Guard, MIA/POW, the California State flag, and the Support Our Troops flag, depending on the number of runners in their group. Lt. Mills has carried the American Flag in over thirty races since he ran the Virginia 10-miler with Steve Bozeman, a famous Marine veteran who started the Running Color Guard at the Marine Corps Marathon in 1987. He does this to honor his country and those who have served in the Armed Forces, "People love to see Ole Glory fly by. It offers inspiration and hope to other runners and spectators at the races. I make sure the American Flag is flown at every race I'm in."
Lt. Mills dedicates his race to someone different each time. Last year's events honored the Medal of Honor recipients from 2nd Battalion, 4th Marines, which is his unit. This year Lt. Mills will be running in honor of his brother, Sgt. Parker Mills, who is a Marine with Bravo Company, 4th CEB, currently deployed to Afghanistan with 3rd Battalion, 7th Marines in support of Operation Enduring Freedom.
Overcoming Challenges
Beth Sanden was paralyzed in a bicycle crash in 2002, just months after qualifying to run the Boston Marathon. In 2010 she completed the Boston Marathon on a hand cycle. She and other disabled athletes, some of which are veterans, will participate in the Laguna Hills Memorial Day Half Marathon and celebrate with a traditional Memorial Day barbeque afterwards. David Whiting of the Orange County Register recently wrote about Sanden and her path to the Boston Marathon.
Run With a Purpose
Inspired by World Vision's efforts to support orphaned kids in Africa through sponsored runs, Holly Webb and Becky Perez decided they could do something similar through their two churches, Capo Valley Christian in San Juan Capistrano and South Shores Church in Monarch Beach, at the City of Laguna Hills Memorial Day Half Marathon. Their team of over ninety people races to support the Christian organization Acres of Love, which provides the most vulnerable and HIV/AIDS infected infants and children in South Africa with the highest possible quality of care, love, a strong early childhood development foundation, a community-based safety net, and hope. Mrs. Webb says, "South Shores Church is already highly involved with Acres of Love, so this was a natural selection for our fundraising efforts. The name of our run is "Run With A Purpose." So often, running and any other form of exercise can be so focused on our own health and bodies, but there is no reason we all can't give it a greater purpose."
Another Run with a Purpose team member, Kim Whitaker, is passionate about the cause and the chance to raise awareness in the community, "The Laguna Hills Memorial Day run is a great forum to communicate to our entire community who Acres is and what they are doing to help kids in South Africa. Together we hope to raise as much money as we can for the South Shores Forever Home. Our goal is to raise $15,000 for Acres of Love from the Memorial Day Run." The team has raised over $3,500 thus far for Acres of Love and expects quite a few more donations by race day. They will have a tent set up at the start and finish lines of the race where people can get information about Acres of Love.
ICAN - International Coalition for the Advancement of Neurology
On March 21, 2003 Fermin Camarena was hit with a massive hemorrhagic stroke and suffered paralysis on her right side. She just passed her seventh anniversary and will participate in the Laguna Hills Half Marathon on Memorial Day to increase stroke awareness. In 2005, she walked her first 5K. In 2006, she walked the LA Marathon in 12:42:32 and completed Peak-to-Peak Road from Big Bear to Mammoth, which was 332 miles in five days.
Doing What They Can at Home
"Memorial Day means a lot to my family. My husband is a US Marine and is currently deployed to Afghanistan. He has lost a few friends while he was deployed to Iraq, one being Lance Cpl Aaron Austin, who was an outstanding Marine. I have never been a runner before, but I decided to start training for this half marathon while my husband is deployed for something to pass the time and Memorial Day is the perfect day to do it on." - Erica Rettenberger, San Clemente
"This is a special reminder of how many have sacrificed in place of us! Thanks for giving us this special privilege to run and celebrate our nation and those who fight for our country." Selina Nordberg, Orange County
Serving Veterans
US Vets is the largest non-profit organization in the country dedicated to serving veterans and a nationally recognized leader in the field of service delivery to veterans. Each day in Southern California their programs and services serve over 1,000 veterans. US VETS provides employment training and job placement, green jobs training, transitional and affordable housing, mental health services, substance abuse treatment, and a career center. This Memorial Day they will have a team at the Laguna Hills Half Marathon to honor those who have served our country.
Inspiration to Get in Shape
Mary Wesner used to weigh 220 pounds. She now weighs 138. "This event has been my inspiration. My boyfriend took me to see him run this event when we first met. I completed my first 5K last year, which has inspired me to keep running."
Event Information - http://www.lagunahillshalfmarathon.com (Online Registration Open)
***Volunteers and Community Service Groups Needed***
Please call 949-975-8506 or email questions(at)lagunahillshalfmarathon(dot)com for more information
Monday, May 31 - 5:30am – Race Day Registration Opens
Pre-race packet pick-up will take place on Sunday, May 30 between the hours of 12:00 and 4:00pm.
Half Marathon - Elite as well as recreational runners will enjoy the scenic 13.1-mile event that winds through the cities of Laguna Hills, Laguna Niguel, and Aliso Viejo. The race begins at 7:00am on Calle de la Louisa, between the Laguna Hills Mall and the Saddleback Memorial Medical Center, and ends at the Laguna Hills Community Center. Half Marathon awards will be available for pick-up at 10:00am.
5K Run/Walk - The 5K event also begins at 7:00am, and includes a loop through the beautiful Laguna Woods Village. The race concludes at the Laguna Hills Community Center. Awards will be available at 9:00am.
Kids Half Mile Race and Diaper Dash - Let the kid's burn off some energy in the Kids Half Mile Race. This event, which takes place at the Community Center, is for kids between the ages of 4 and 12. The participants will race in groups according to age, with each group of runners starting 3-5 minutes apart. The first race will begin at 9:30am. The Diaper Dash promises to be lots of fun for little runners 3 years of age and under. The 50 yard dash will begin at 9:45am, also at the Community Center.
Community Expo - Whether you take place in the races or not, the Community Expo at the Laguna Hills Community Center and Sports Complex will be fun for all! The expo includes live entertainment and more than 40 vendor booths, and will take place from 7:30am to 11:30am.
Food Drive - The City of Laguna Hills and South County Outreach will be partnering in a Food Drive. Race participants and spectators are encouraged to bring canned goods and non-perishable items that will benefit South County Outreach. South County Outreach is a non-profit organization dedicated to helping low-income families, seniors, and individuals in crisis. Drop off locations will be found at both the start and finish line on race day, along with the Laguna Hills Mall during packet pick-up on Sunday May 30.
Saddleback Memorial Medical Center, Presenting Sponsor - A 325-bed hospital with locations in Laguna Hills and San Clemente, Saddleback Memorial Medical Center has been working to enhance the health and well-being of South Orange County residents for over 30 years. In addition to 24-hour emergency care, Saddleback Memorial offers complete critical care, an exceptional Women's Hospital and an array of inpatient and outpatient surgical services. Saddleback Memorial is part of MemorialCare, a system of not-for-profit, community based medical centers. For more information, please visit memorialcare.org/saddleback
###