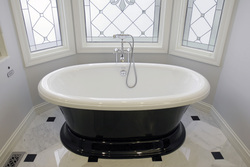 Aquatic's Serenity 11 was the perfect match for this project – it is not only one of the major focal points of the new bathroom, but it was inspirational for much of what we did in this space
ANAHEIM, CA (Vocus) May 19, 2010
Aquatic – the world leader in innovative and inspirational bathware – today announced that a master bathroom remodeling project done by Schneider Kennedy Design featuring the elegant Serenity 11 tub has won a K+BB Design Merit Award.
The annual K+BB Design Awards, sponsored by Kitchen & Bath Business, honor the outstanding work of a select group of kitchen and bath design professionals and provides peer recognition and respect.
David Schneider of Schneider Kennedy Design designed the award-winning project, transforming a builder-grade, master bath in a 14-year-old, suburban St. Louis home into a luxurious, spa-like retreat inspired by early 20th century grand hotels of New York City and Paris.
"Aquatic's Serenity 11 was the perfect match for this project – it is not only one of the major focal points of the new bathroom, but it was inspirational for much of what we did in this space," said Schneider. "A freestanding tub with magnificent sensual lines, it evokes old world elegance; at the same time, the styling is simple, clean and fresh, so the look and feel are timeless. Just as importantly, the Serenity 11 provides an exquisite bathing experience so my clients can feel that they're getting away from the 'hustle and bustle' of everyday life every time they step into this tub."
The freestanding Serenity 11's features include:

60 air portals for the ultimate in soothing hydrotherapy
A variable speed air blower with a 20-minute timer
An air heating system
An electronic control package with wave and pulse features
A waterproof remote control
An extra deep bathing well
To get the exact right look for a bathroom, a designer or homeowner can have the tub custom fabricated in up to three colors – one each for the interior and exterior of the bathing well and also for the pedestal. Aquatic offers six standard and five premium colors for Serenity 11.
Serenity 11 is part of Aquatic's renowned, luxury hydrotherapy line of bathtubs. The company also offers a huge selection of everyday and accessible tubs and showers for virtually every need. With more than 330 products -- the broadest selection in the bathware industry today, Aquatic is the choice of builders for residential construction (i.e., single family homes and multi-family dwellings such as apartments and condominiums), as well as hotels and resorts, hospitals and heath care facilities, college and university dormitories and other large projects.
Prior to the remodel, the 115 square-foot bathroom had a linear feel, almost like a bowling alley – one wall was lined with a cultured marble, dual sink vanity, closet and toilet while the opposite wall had a brass-framed, glass-enclosed shower next to a bulky, cultured marble tub with an oversized deck wedged into an alcove with a bay window. Four-inch square tile flooring added to the space's dated look.
Although they didn't want to change the existing footprint of the bathroom, the homeowners wanted a more open, beautiful, sophisticated and elegant space to which they could escape for relaxation and rejuvenation. Maintaining a consistent look and feel with the rest of their transitional-style home also was important.
Working with a classic palette of black and white, Schneider grounded the redesigned bathroom with 18" Carrara marble floor tile and absolute black granite. He replaced the bulky, built-in tub and decking with an Aquatic Serenity 11 tub finished with a black exterior and white interior, adding curves to and opening up the space. He also put stained glass overlays on the surrounding bay window to diffuse natural light and further soften the room.
Schneider removed the vanity and closet from the opposite wall, creating room for two classic demilune vanities in black with silver accents and matching mirrors. Recessed lights, decorative sconces and use of a fleur-de-lis motif throughout the bathroom all repeat the circular design element and provide an elegant flair. To see the Serenity 11 in the context of the full bathroom redesign, please visit Kitchen & Bath Business' coverage.
"At Aquatic, we love to hear stories like these – stories about how the products we design are the inspiration for creating spectacular spaces and experiences in the home," said Gary Anderson, President of Aquatic. "Although we sell showers and tubs, we're really in the business of enhancing people's lives daily through hydrotherapy, whatever their needs and aspirations are."
About Aquatic
Aquatic is the world leader in bathware and shower products. Born from the 2010 merger of Lasco Bathware and Aquatic Whirlpools, Aquatic offers the broadest and most inspiring selection of luxury hydrotherapy, everyday and accessible bathing products. Based in Anaheim, California, Aquatic serves distributors, builders, architects, designers and consumers through a nationwide network of state-of-the-art facilities for manufacturing, distribution and support. For more information, visit http://www.aquaticbath.com.
# # #