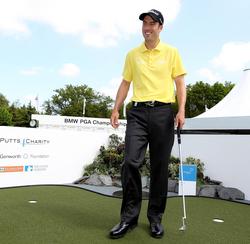 "Genworth's commitment to SOS Children is enabling vulnerable children without parental care, to grow up in a family home with the love and support of an SOS mother" Andrew Cates, CEO, SOS Children's Villages
London (PRWeb UK) May 19, 2010
Genworth Financial has launched the 2010 season of its popular fundraising initiative Putts4Charity, which aims to donate £175,000 to this year's main beneficiary, SOS Children's Villages. Over £400,000 has been donated through Putts4Charity activity across Europe since 2007 when the initiative first began.
Genworth, a leading global financial security company, opened the 2010 programme with a 'big money' one putt by Genworth brand ambassador and Tour professional Ross Fisher in the lead up to the BMW PGA Championship at the Wentworth Club in Surrey. A number of celebrities attending the ProAm tournament also joined in the fundraising fun, including Tim Henman, Vernon Kay, Will Greenwood and DJ Spoony.
Now in its fourth season, Putts4Charity helps raise funds for good causes by challenging the general public to make a successful "one putt" on specially constructed greens at various stops along The European Tour. For each successful one putt made at the BMW PGA Championship, the Genworth Foundation makes a £1 donation to charity. Similarly, every one putt made by professionals competing in the tournament will raise £2, helping to boost the total even further.
"At Genworth we have an ongoing commitment to supporting the communities we serve as a business", said Martin Ring, a director of the Genworth Foundation. "Together with The Tour Players Foundation, we raised £160,000 across the tournaments in 2009, beating the previous years' totals and providing vital support for our chosen charity, SOS Children's Villages, which focuses on the long term care of orphans across the globe".
Andrew Cates, CEO, SOS Children in the UK added: "Genworth's commitment to SOS Children is enabling vulnerable children without parental care, to grow up in a family home with the love and support of an SOS mother. Putts4Charity not only provides vital financial support for SOS Children, but helps generate awareness of our children's villages, education programmes and community outreach work throughout Europe. We are very proud to be supported by Genworth Financial."
Genworth developed Putts4Charity in partnership with The Tour Players Foundation, the charitable organization of The European Tour and, at Wentworth, the public will be able to line-up their one-putts on a spectacular six hole putting green in the tented village, created with the support of BMW.
Mark Roe, Chairman of The Tour Player's Foundation commented, "It's great to see the 2010 Putts4Charity initiative being launched at Wentworth and to see our Professionals getting behind the initiative so strongly once again."
Genworth is also the official sponsor of The European Tour Statistics programme, providing Tour Members with invaluable analysis of their performance. Every shot played by every member is profiled throughout the season, with the results collated into nine categories: Stroke Average, Driving Accuracy, Driving Distance, Greens in Regulation, Putts per Round, One-Putts per Round, Sand Saves and Scrambles and Putts per Greens in Regulation.
Notes to editors
For further photography from the launch, please contact dclegg(at)teamspiritpr(dot)com/ 07903 336499. To hear Ross Fisher's thoughts on the 2010 BMW PGA Championship, you can hear his latest podcast at:
http://www.genworth.co.uk/content/genworth/uk/en/About_Us/sponsorships/videos/European_Tour_Statistics_Audio_Highlights_.html
Genworth will be local sponsors of the following tournaments on the 2010 European Tour calendar:

BMW PGA Championship (20th – 23rd May) (ProAM May 19)
Madrid Masters (27th – 30th May)
BMW International (24th – 27th June)
Alstom Open de France (1st – 4th July)
Nordea Scandanavian Masters (22nd – 25th July)
3 Irish Open, Killarney, Co Kerry - July 29-Aug 1 (ProAM July 28)
Portugal Masters (15th – 18th October)
For more details on Genworth's partnership with the European Tour, please visit http://www.genworth.co.uk/golf
About Genworth Financial
Genworth Financial, Inc. (NYSE:GNW) is a leading Fortune 500 global financial security company. Genworth hasmore than $100 billion in assets and employs approximately 6,000 people with a presence in more than 25 countries. Its products and services help meet the investment, protection, retirement and lifestyle needs of more than 15 million customers. Genworth operates through three segments: Retirement and Protection, U.S. Mortgage Insurance and International. Its products and services are offered through financial intermediaries, advisors, independent distributors and sales specialists. Genworth Financial, which traces its roots back to 1871, became a public company in 2004 and is headquartered in Richmond, Virginia. For more information, visit http://www.genworth.co.uk
Contact:
Media
Guy Genney, +44 208 380 3786; guy.genney(at)genworth(dot)com
Martin Ring, + 44 208 380 2112; martin.ring(at)genworth(dot)com
Dan Clegg, + 44 207 864 4126; dclegg(at)teamspiritpr(dot)com
###