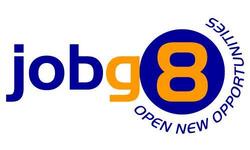 The Jobg8 marketplace allows us to enhance our offering to our military clients with better job content and access to a very unique job distribution marketplace.
Portland, Maine (Vocus) May 20, 2010
HireAHero.org, one of the largest military community job centers in the country has announced its integration with Jobg8. HireAHero.org provides free employment services for returning service members and their families and they will now be an active member of the Jobg8 marketplace. Rob Barr Executive Director of HireAHero.org stated that "The Jobg8 marketplace allows us to enhance our offering to our military clients with better job content and access to a very unique job distribution marketplace." Rob continued to say; "With the unemployment rate for veterans who served in the current gulf war at 12.6%, compared to 9.7% for the general population, it is important for us to partner with organizations such as Jobg8 so that we can provide quality jobs to our returning service members."
The HireAHero.org site is supported by Boxwood of Hunt Valley MD who worked with Jobg8 to facilitate the integration of the service. Boxwood is one of the largest job board platforms and online career center service companies in North America with over 900 active clients. John Bell, CEO of Boxwood said "We are excited to offer our customers access to this innovative job distribution and marketplace model. Although HireAHero.org is our first client to sign up for the Jobg8 service, we expect others will soon be joining them. We think the Jobg8 model provides a very innovative service for our association clients' job boards and through this integration, we are creating added benefits for our clients who wish to participate."
Matt Hoffner, President of Jobg8 North America said "Boxwood is such a strong and respected company within the job board industry, it is a real privilege to work with them to deliver the Jobg8 services to their non-profit clients like HireAHero.org. They are trusted by their clients and understand the value of the Jobg8 marketplace in improving their clients' results and revenue. We are excited to begin work with other Boxwood clients who may be interested in the service."
About Jobg8
Jobg8.com has created a sophisticated application that allows a job board the ability to use filtering technology to create a higher return of qualified applicants for their customers, increase job content, and create an additional revenue source. The Jobg8 network of job boards creates a virtual marketplace. This marketplace allows Job Boards to either distribute jobs to search for applicants with certain qualifications, or use the marketplace to acquire additional targeted job postings (branded as their own) and generate added revenue for qualified applicants provided from their site. Jobg8 delivers a viable and cost effective solution where all costs are incurred on a transactional basis. Different than many other distribution models, this is always done while protecting the brand the individual job board and protecting applicant privacy. The entire model is based on an increasingly popular "pay per qualified application" model.
For more information about Jobg8, please visit http://www.Jobg8.com and/or contact Matthew Hoffner at Matthew(dot)Hoffner(at)jobg8(dot)com
For more information about HireAHero.org, please visit http://www.HireAHero.org or contact Rob(at)hireahero(dot)org
About BOXWOOD
Boxwood's rich history includes delivering software as a service (SAAS) to non-profit and not-for-profit associations, generating over $300 million dollars in non-dues revenue for clients. Boxwood job boards and job board networks are part of a suite of private-labeled career center products and services that seamlessly integrate with existing association websites. Boxwood products include: career fairs, online mentor systems, career resources for resume writing, coaching, and self career management, and social network integrations. Partnerships with applicant tracking system (ATS) providers and job advertising distributors (JAD) are important alliances for Boxwood's growing list of over 950 association clients. Boxwood is also the exclusive distributor to the association industry for Weddle's syndicated content and CareerFitness.com. In a class of its own, Boxwood is uniquely endorsed by the American Society of Association Executives (ASAE) and is a charter member of the International Association of Employment Websites (IAEWS).
For more information about Boxwood Technologies, please visit http://www.BoxwoodTech.com or contact Contact Mary Kay Carey at MCarey(at)Boxwoodtech(dot)com
# # #