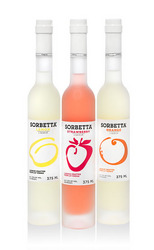 Baiting Hollow, NY (PRWEB) May 20, 2010
Long Island Spirits, Inc. announced today the availability of its new family of spirits called Sorbetta. The Sorbetta family is extremely rare in quality and are uniquely the first potato based Liqueur's crafted in the United States. The Sorbetta's achieve a farm to bottle freshness in their taste profile by using only individually hand peeled and macerated fresh fruits combined with pure cane sugar that is patiently crafted in small micro-batches from the spirits of LiV Vodka. The Sorbetta Family of Lemon, Orange and Strawberry is distributed by Winebow Inc. and is currently now available for sale in finer retailers and drinking establishments in the following states New York, New Jersey, Washington DC, Pennsylvania, Connecticut, Massachusetts and Illinois. Although technically classified a Liqueur, Sorbetta is in itself a new kind of spirit category as it is crafted to fill a gap that exists for mixologist's between the typical over sugared syrupy Liqueurs and the countless synthetic tasting flavored vodka's on the market today. The Sorbetta's are currently available in 375ML sizes for about $22.
"Responding to the burgeoning cocktail culture movement, Sorbetta is crafted with all natural purity of fruit flavor in mind" extolled Richard Stabile, Founder of Long Island Spirits, "each flavor manages to capture that fresh picked taste experience".
"Sorbetta is a welcome addition to a category that is crowded with economy brands that are too sweet and artificially flavored" applauded Dale DeGroff a.k.a. King of Cocktails, "Finally an American liqueur line that can compete with the French and Italians".
Tasting Notes for the Sorbetta's are as follows:
Lemon Sorbetta: The fragrance is pure, fresh and sultry; morning in an Italian lemon grove. There is an elegant silky feeling on the palate; with just the proper amount of sweetness that makes for an amazingly refreshing finish.
Orange Sorbetta: A brilliant orange blossom nose. Delicious orange decadence that quickly fills the mouth with crisp, clean, zesty flavor. Extremely well balanced with an authentically fresh squeezed relaxing smooth finish.
Strawberry Sorbetta: A remarkable bouquet that ignites all the senses with its clean, alluring and rich strawberry flavor. Pure vine ripened fruit shines through on the palate with an uncommonly regal finish.
"Mixologists are increasingly seeking locally crafted, high quality artisanal spirits. The Sorbetta's provide a remarkable fresh taste which allows them to create some truly unique new cocktails" added Scott Tallon, Spirits Director of Winebow.
"Sorbetta is a mixologists best friend in todays dramatically increasing demand for artisan cocktails at a valued price. The quality is outstanding and Sorbetta enhances a cocktails flavor without adding that sugary consistancey." said, Jason Barlow, General Manager, Honu Kitchen & Cockails
In tribute to this new family of Spirits, Dale DeGroff has created the following series of Sorbetta based cocktails:
Springtime
1 1/2 ounces Sorbetta Strawberry
1 ounce Hendricks Gin
1/2 ounce fresh lemon juice
1/4 ounce agave nectar
1/2 ounce egg white
Preparation: Shake all the ingredients well and strain into a short Highball glass over ice. Garnish with strawberries and mint sprig.
Lanai Cocktail
1/4 ounce Pimm#1
1 1/2 ounces Sorbetta Orange
1 1./2 ounces Lillet Blonde
Half orange wheel
Preparation: Season and old-fashioned glass by coating the inside with 1/4 ounce Pimms #1 toss out the excess. Fill the glass 3/4 full of ice and pour in the Lillet and the Sorbetta Orange and stir. Garnish with half an orange wheel and serve with short straws.
MÈNAGE Á TRIOS
1 1/2 ounce VSOP Cognac
1 ounce Lemon Sorbetta
1/2 ounce Cointreau
Preparation: Prepare a cocktail glass with a sugar frosted rim. Assemble the three spirits in a cocktail shaker with ice and shake well and strain into the prepared glass. Flame an orange peel over the top of the drink and drop the peel into to drink.
Beaumont Cocktail
1 ounce Sorbetta Orange
1 ounce Mount Gay Extra Old
1/4 ounce homemade cinnamon syrup*
2 ounces fresh grapefruit juice.
Orange or grapefruit zest garnish
Preparation: Assemble all the ingredients in a cocktail shaker with ice and shake we'll. Strain into a chilled cocktail glass and garnish with an orange or grapefruit zest or both.
*Cinnamon Syrup: 1 cup pure water, 2 cups granulated sugar, 12 cinnamon sticks. Assemble all the ingredients in a sauce pan over medium heat and stir until the sugar is completely dissolved. Turn the heat down to simmer and simmer for 2 hours covered. Cool. Strain and bottle for use.
NOTE: Cinnamon Syrup is available commercially but the homemade is so easy to make and so far superior to the commercial product I encourage you to prepare your own.
Punch Primavera
1 Liter fresh Watermelon juice*
500ml bottle Sorbetta Orange
4 ounces fresh lemon juice
2 ounces honey syrup (two parts honey dissolved into one part pure water)
24 mint leaves
Mint sprigs for garnish
Preparation: Combine all the ingredients in a large pitcher or punch bowl. Serve over ice with Lemon Wheel and Mint sprig garnish
NOTE: The punch is wonderful by itself , but as you will see from the drink below it is VERY mixable. Make a batch and tuck it away in the fridge and try with your favorite spirits.
Apertivo Primavera
5 ounces Punch Primavera
1 1/2 ounces Aperol
Lemon wedge
Mint sprig.
Preparation: Fill a wine goblet three quarters with ice cubes. Add the Aperol and then the punch primavera. Squeeze the lemon wedge into the drink and drop it in. Garnish with the mint sprig.
Pimms Suffolk
Ingredients
1/2 ounces Cointreau
1 1/2 ounces Sorbetta Strawberry
3 ounces Long Island Blanc de Blanc Sparkling wine (Suggest Shinn Vineyards)
1/2 Strawberry with greens
Generous mint sprig
Preparation: Fill a goblet 3/4 full with ice cubes. Add the Cointreau the and Sorbetta. Top with the Brut Rose sparkling wine and garnish with the strawberry and mint sprig.
Winebow, Inc., http://www.winebow.com founded in 1980 by Leonardo LoCascio, is a major importer and distributor of fine wines and spirits from around the world. Winebow is headquartered in Montvale, New Jersey with additional distribution offices in New York, New York; Philadelphia, Pennsylvania; Washington, D.C.; Boston, Massachusetts; Illinois; and Connecticut.
Long Island Spirits, Inc.
Contact: Rich Stabile
(631) 630-9322
rich(at)lispirits(dot)com
http://www.lispirits.com
Winebow, Inc.
Contact: Scott Talon
(201) 445-0620
S_tallon(at)winebow(dot)com
http://www.winebow.com
# # #