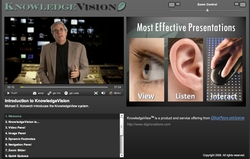 From annual meetings to product launches to customer conferences, DigiNovations' KnowledgeVision team knows how to instantly project a live event around the globe with clear video, great sound, and crisp slides, and to record it for on-demand playback.
Concord, MA (PRWEB) May 20, 2010
DigiNovations, Boston's leader in web video production services, has now added the production of live web video presentations to the suite of video production services it offers in New England and nationwide. DigiNovations creates these uniquely compelling web presentations using the powerful KnowledgeVision presentation platform -- an enterprise-quality solution for synchronizing side-by-side video, PowerPoint slides, graphics, and dynamic footnotes. With the addition of KnowledgeVision Live, DigiNovations can now offer a full suite of no-hassle field production services that help companies use the World Wide Web to communicate -- both live and on-demand -- with customers, employees, partners, and prospects. KnowledgeVision presentations may be viewed on any Flash-enabled web browser, anywhere in the world, 24 hours a day, 7 days a week.
"KnowledgeVision helps companies and organizations transcend the barriers of space and time in delivering presentations to an audience beyond the walls of the presentation room and at a time convenient to the viewer," said DigiNovations executive producer Michael Kolowich. "From annual meetings to product launches to customer conferences, our KnowledgeVision team knows how to instantly project a live event around the globe with clear video, great sound, and crisp slides, and to preserve that event for replay from any web browser, any time. At a time of growing global commerce when travel can be restricted by anything from rising airfares to volcanic ash, a DigiNovations-produced KnowledgeVision presentation is a great way to ensure that critical presentations and events can be viewed anywhere, anytime."
View an example of a KnowledgeVision presentation.
DigiNovations creates live KnowledgeVision presentations with a small, unobtrusive crew of professionals that are experts at helping companies with live presentations. All that's required in advance is that our clients arrange for a broadband internet connection on-site, and that all presentation elements be conveyed to DigiNovations prior to the presentation. The DigiNovations team loads PowerPoint presentations and other graphics and video segments in advance, converting each media element to highly efficient formats to transmit from the event site. DigiNovations supplies its client with the web code needed to embed the live presentation on any page the client controls -- whether on a highly public page or on a secure page within a password-protected public area or on an intranet site. At the time of the event, an on-site DigiNovations producer performs the live synchronization, transmission, and monitoring of the KnowledgeVision feed, which can be seen within seconds anywhere in the world. After the event, the recorded and synchronized presentation may be viewed on-demand the same day -- sometimes within minutes.
DigiNovations' skill in using KnowledgeVision for live and on-demand events is not surprising, since DigiNovations was intimately involved in developing KnowledgeVision's software tools. "Our production staff worked hand-in-hand with the KnowledgeVision team to develop a solution finely-tuned to our clients' web presentation needs," said DigiNovations operations vice president Shawn Whitaker. "The KnowledgeVision solution is unique and clearly superior to other alternatives for making presentations over the web, whether live or on-demand."
KnowledgeVision is scheduling group and one-on-one demonstrations of KnowledgeVision Live. For a schedule of demonstrations, or to request a demo for your company, visit http://www.knowledgevision.com/live.
About KnowledgeVision Systems
Based in Concord Massachusetts, KnowledgeVision serves the world's growing need for on-demand and live knowledge by creating rich, engaging Flash presentations that are viewable on the web at any time with any type of computer. KnowledgeVision's hosted authoring tool, KVStudio, enables communication professionals to create presentations that tightly synchronize video, PowerPoint, images, and dynamic footnotes. KnowledgeVision Presentations are used for on-demand training, product demonstrations, marketing, sales, investor relations, and preserving the value of in-person presentations made by companies and organizations around the world.
###