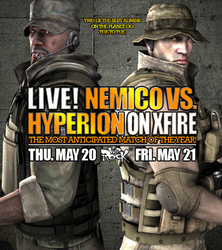 Hyperion and Nemico's story of friendship and betrayal has lived throughout War Rock and will finally be hashed out in front of the entire Community; actually we have all been waiting for this!
Irvine, Calif. (Vocus) May 20, 2010
War Rock, the premier FPS title of GamersFirst (http://www.WarRock.com), has announced the reunion of nemesis' Hyperion and Nemico in a two-day battle of Valor.
Hyperion Vs. Nemico will be a two-day event, starting on Thursday, May 20th, streamed live on X-Fire. There will be special promo code giveaways during the event.
"This is the battle that players have been waiting for," says Chuck Leonard, AP on War Rock for GamersFirst. "Hyperion and Nemico's story of friendship and betrayal has lived throughout War Rock and will finally be hashed out in front of the entire Community; actually we have all been waiting for this!"
In Celebration of Valor Day, Valor Day Promotions and Events include:
o 25% XP Bonus will run until May 25th
o In-game puzzle event - players need to solve puzzles and after collecting all puzzle pieces will win the new Camo AK47*
o Valor Day Promotion including new & popular items

Other MayDay promotions include:

8th Slot: Nickel M249 - May 18th – May 25th
8th Slot: Nickel TMP9 - May 25th – June 6th
Heavy Rush Weekend includes Heavy Rush in game event - May 21st – May 24th
Sniper Rage Weekend includes a Sniper event; AW50F - May 28th – May 31st
To get up-to-date information on GamersFirst and War Rock's Community and Fan Pages, check out the following links:
XFire LiveStream - http://www.xfire.com/live_video/g1warrock/
Hyperion vs. Nemico Forums - http://forums.gamersfirst.com/index.php?showtopic=54244
Facebook – http://tiny.cc/bm3ua
Community Website – http://www.WarRock.com
Twitter – @WarRock @GamersFirst
About GamersFirst
GamersFirst is the leading Free2Play® MMO game publisher in the Western hemisphere. Serving over 28 million players, GamersFirst.com is where gamers gather to decide the price of the games they love to play–even when that price is "free." Powered by GamersFirst CONNECT; the end-to-end game publishing, game operations, rapid game deployment and game community platform made available to all of GamersFirst's Development Partners, GamersFirst.com features the hit MMO RPG and MMO FPS games War Rock, Knight Online, Sword of the New World and the future hits Parabellum, Victory, GoGoRacer and Taikodom. Read more about the company at http://www.GamersFirst.com/corporate/ and find all of their games at http://www.GamersFirst.com
GamersFirst PR
GamersFirst.com
pr(at)gamersfirst(dot)com
http://www.gamersfirst.com
###