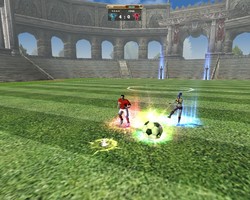 The new soccer patch will provide our community with new and exciting ways to interact with each other. The new Power Up Store items and anti-hack measures should prove to popular with our loyal fan base.
Irvine, Calif. (Vocus) May 20, 2010
Knight Online (KOL), a premier MMORPG of GamersFirst (http://www.Gamersfirst.com/KnightOnline), announce the release of its latest soccer patch! In addition, KOL will be implementing a phased hacking punishment system within the game.
Soccer Patch Information
All users will be able to play soccer at a stadium placed right outside the Moradon Castle. The rules of the soccer matches are as follows:

Soccer is Red versus Blue team
A minimum of 2 players are needed to start a match
You start a game by visiting the NPC outside of the Stadium
Two soccer skills can be used; dribble and shoot.
o Additional skills will be released in upcoming patch releases

You earn Goal Pendants with each goal scored:
Goal Pendants can be exchanged for up to three different soccer uniforms
Other Additions
Players who wallhack within Knight Online will be sent to an in-game jail. To get out of jail, players will have to kill a specific amount of mobs to be released. In this patch Knight Online also cleared up additional exploitations which cheaters have been taking advantage of.
In addition, KOL boasts new set of Power Up Store items that have been released.
"We are excited for players to take advantage of our several new features," says Joey Hibbard, assistant producer on Knight Online at GamersFirst. "The new soccer patch will provide our community with new and exciting ways to interact with each other. The new Power Up Store items and anti-hack measures should prove to popular with our loyal fan base."
To get up-to-date information on GamersFirst and Knight Online Community and Fan Pages, check out the following links:
Facebook – http://www.facebook.com/KnightOnline.GamersFirst
Community Website – http://www.GamersFirst.com/KnightOnline
Twitter – @KnightOnline @GamersFirst
About GamersFirst
GamersFirst is the leading Free2Play® MMO game publisher in the Western hemisphere. Serving over 28 million players, GamersFirst.com is where gamers gather to decide the price of the games they love to play–even when that price is "free." Powered by GamersFirst CONNECT; the end-to-end game publishing, game operations, rapid game deployment and game community platform made available to all of GamersFirst's Development Partners, GamersFirst.com features the hit MMO RPG and MMO FPS games War Rock, Knight Online, Sword of the New World and the future hits Parabellum, Victory, GoGoRacer and Taikodom. Read more about the company at http://www.GamersFirst.com/corporate/ and find all of their games at http://www.GamersFirst.com
GamersFirst PR
GamersFirst.com
pr(at)gamersfirst(dot)com
http://www.gamersfirst.com
###