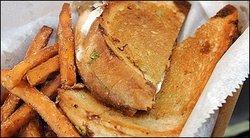 "Its grilled cheese at it's best," says Matt Lancelotta, co-founder.
Catonsville, MD (PRWEB) May 21, 2010
It's All About the Grilled Cheese! Grilled Cheese & Co. (http://www.ilovegrilledcheese.com) has launched its first restaurant on April 5th at 500 Edmondson Avenue in Catonsville, MD with plans to expand by franchising and licensing the restaurants in the next two years. The restaurant is serving lunch and dinner, with plans to add breakfast.
Inspired by childhood memories of grilled cheese, the company has taken its lead by offering premium grilled cheese sandwiches and giving customers the comfort foods which they desire: an menu featuring upscale, freshly-prepared grilled cheese sandwiches, homemade soups and gourmet salads. All ingredients are fresh:
Some Menu Items include: The BCT (Smoked Bacon, Aged White Cheddar and Diced Tomato), The Fresco (Fresh Mozzarella, Roasted Red Peppers, Pesto, Balsamic Glaze and Extra Virgin Olive Oil) , Blue Ox (Marinated Steak, Crumbled Blue Cheese & Our Own Horseradish Sauce) and the Crabby Melt (Blue Crab Meat, blended with cream cheese, sour cream and spices, topped with Monterey Jack Cheese).
The focus is on flavor and simplicity with a simple menu. "Its grilled cheese at it's best," says Matt Lancelotta, co-founder. We use the finest ingredients and our sandwiches provide an explosion of flavor.
Our goal was to add Grilled Cheese to the Fast Casual segment of the foodservice industry. With the explosion of burger restaurants nothing had been done with the grilled cheese category, says Vic Corbi. At Grilled Cheese & Co. our stores are designed to have the feel of home. Grilled Cheese & Co. interiors are finished with wainscote on the walls, cherry hardwood floors, and warm earthy colors that ties in very well with the brand.
The company also attends Wine Festivals, Beer Festivals, Fairs and other Events throughout the Mid-Atlantic region. In October the company will be holding its own event, the Grilled Cheese, Beer & Wine Festival will take place on October 23, 2010 at the Shipley Arena (Carroll County Ag Center) in Westminster, MD. The festival website will be launched sometime in late may.
About Grilled Cheese & Co.
At Grilled Cheese & Co. our philosophy is simple, grilled cheese is one of life's great simple pleasures. Grilled Cheese is many things...a fond memory of our youth, a spontaneous treat, a special indulgence, a happy celebration, or just plain fun. Grilled Cheese erases our worries, and no matter what our age, always brings a smile to our face – like magic. We take great pride in making great grilled cheese sandwiches and using only the finest ingredients. And the best part is sharing it with you.
###