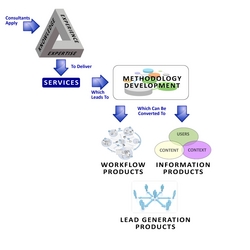 Even relatively small businesses can build a very robust product offering by following a series of discreet steps
Framingham, MA (PRWEB) May 20, 2010
Consulting and professional services firms could be generating more revenue and reducing their dependency on client's spending habits by "productizing" their expertise and experience. The productization process ultimately helps firms convert their hard-earned intangible assets into revenue generating products.
"By adding even a simple product offering into the mix a company can dramatically simplify the purchase decision for its customers," said Jeff Roy, CEO of IFConnect. "This can make it easier to enter new markets, generate more predictable revenues and ultimately establish exit opportunities for partners whose firms depend primarily on their expertise," added Roy.
The productization process is not complex and need not be expensive, asserts the white paper. Even relatively small businesses can build a very robust product offering by following a series of discreet steps and expanding their bandwidth as necessary through the use of inexpensive virtual project teams. The White paper discusses the benefits of productization and outlines the early steps as a way of helping partners and senior managers begin conceptualizing new product offerings for their firms.
IFConnect is part of the Implementation Factory, Inc., family of companies with offices in Framingham, MA (Boston area); Rockville, MD (Washington D.C. area); and Bangalore, India. In addition to IFConnect, Implementation Factory, Inc. owns outright or is an equity investor in a number of other ventures, including: Praura, a provider of online collaboration tools and Holeb Outdoors, a manufacturer of specialty outdoor products. For more information about IFConnect please visit http://www.ifconnect.com.
###