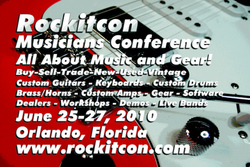 All about Music and Gear!
Kissimmee, FL (PRWEB) May 20, 2010
June 25-27, 2010 Rockitcon Musicians Conference will feature hundreds of booths and exhibits, including international, national, as well as local Manufacturers of Guitars, Custom Guitars, Drums, Custom Drums, Keyboards, Amplifiers, Boutique Amplifiers, both Electric and Acoustic, and Brass/Woodwinds will also be present. This is not just a guitar show. Find your one of a kind Instrument, boutique Amplifier, vintage Instrument, custom Drums or Effects that you can't find anywhere else, built the way you want it! Buy-Sell-Trade-Used-New.
Technicians will be on hand to answer all of your questions and evaluate that old instrument to get it in tip top shape and make it play the way you want! There will be custom manufacturer product Introductions and Demonstrations, Seminar's on Instrument setups, Home Recording setups, Software and more.
Drum clinics will be presented by Patrick Johansson and Joey Image. Patrick is currently the drummer with Yngwie Malmsteen. In addition, he is working on an album with Dan Spitz (former Anthrax guitar player) and also a new album with his south Florida metal band Kinlin. Joey joined The Misfits in November 1978. He was the drummer for both the Horror Business and Night of the Living Dead sessions of 1979. Both Patrick and Joey will hold Q&A's sessions about their careers. Patrick will be performing Friday night with his band, "Kinlin".
Ethan Brosh will be hosting a Guitar clinic on Sunday. Ethan is currently the guitar player for the new band Angels of Babylon. Ethan was also the winner of the first ever "Guitar Hook" competition in George Lynch's guitar Dojo.
Ethan endorses several top notch companies and does appearances for them including NAMM shows. Some of the companies Ethan endorses are: Kahler, Godin guitars, Alden guitars, NADY wireless and ISP technologies who make the most advanced noise reduction systems in the world.
Listen to the best local Florida and national bands at the two indoor stages for our Live Concerts throughout the three day weekend. A great line up of local and national talent including: "Scarlett Pomers", "Orange Avenue", "Kinlin: featuring Patrick Johansson", and "Heroine" featuring Tiffany Martin from "Monsters in the Morning" as well as many other top bands.
Chrystal Hartigan Presents… "Songwriters Showcase" is a sponsor of the Paradise Ballroom Stage. Chrystal will be bringing some of the best Songwriters in the business for live performances throughout the weekend. "Open Mic" time Friday and Saturday Nights! Jonathan Panks will be hosting the "Florida Bluegrass/gospel Jam" on Sunday morning. Steve Dorff and Bobby Tomberlin will be holding a Songwriter's Seminar. Steve has written a number of hit songs for George Strait, Celine Dion, Kenny Rogers, Barbra Streisand, Whitney Houston as well as Motion Picture and Television sound tracks.
Rockitcon will be hosting the Rockitcon 2010 Celebrity Poker Tournament. The Poker Challenge is a charitable event with 100% of the proceeds going directly to the wonderful Give Kids the World Village!
There will be a once in a life time great performance at the VIP party that you won't want to miss!
While the event is called "Rockitcon", that does not mean the acoustic Musicians will be left out, nor will those whose influence is not Rock N Roll inspired. Florida is a state with diverse cultures; from Country and Western, Classical, Blues, Reggae, Bluegrass, Jazz, Latin, the Island Sounds of the Caribbean. Rockitcon caters to it all.
Make sure you reserve your rooms early this year. Rooms sell out quickly and you don't want to pass up the opportunity to stay on premises. You don't want to miss a thing. Rooms at the Ramada Orlando Celebration Resort and Convention Center are just $79 (includes free hot breakfast buffet) a night if you mention "rockit" when you call for reservations. The reservation line is 1-877-467-7886.
Contact:
Blaine Kimball
blaine(at)rockitcon(dot)com
http://www.rockitcon.com
407-902-8185
###