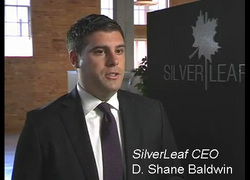 "As we continue to grow our overall portfolio, we feel now is the time to strike while the iron is hot."
Salt Lake City, UT (PRWEB) May 20, 2010
The Salt Lake City-based private equity firm SilverLeaf Financial remains very busy this quarter. "The second quarter appears to be the most active quarter since banks, special servicers and the FDIC began selling debt," said SilverLeaf Financial CEO Shane Baldwin. "We see several loans being sold this quarter by special servicers, as well as an influx of loans being sold by regional banks. Currently in the market we are seeing close to 5 billion dollars in loans that will trade this quarter." When asked about current pricing in the market, Baldwin said, "I think we will see pricing come down because there is so much on the market. I believe we will be able to buy loans at better prices than we've seen historically. We are also seeing more non-recourse commercial loans being sold this quarter opposed to recourse loans, as well as more and more loans secured by retail assets."
Currently a total of 72 banks have failed in 2010. That is more than double the amount of banks shut down this time last year. "We project in the next couple of years we will continue to see more distressed assets, but I believe they will be more commercial mortgage backed securities (CMBS) and non-recourse loans that we'll see being sold. SilverLeaf will continue to focus on underwriting recourse paper and non-recourse paper sold by regional banks, as well as by special servicers," said Baldwin.
SilverLeaf Financial shows no signs of slowing down as they advance their rate of acquiring loans. Baldwin states, "We will continue to be very active buyers in the market, and focus on acquiring more loans than we did in the first quarter of 2010. As we continue to grow our overall portfolio, we feel now is the time to strike while the iron is hot."
About SilverLeaf Financial
Headquartered in Salt Lake City, Utah, SilverLeaf Financial is a private equity firm that focuses on purchasing pools of performing and non-performing, 1st deed of trust loan pools from the FDIC and other financial institutions for the purpose of prompt monetization. For more information, visit SilverLeaf Financial's website: http://www.SilverLeaf-Financial.com.
Contact:
Campbell Dosch
V.P. of Public Relations
SilverLeaf Companies
Phone: (801) 413-4702
###