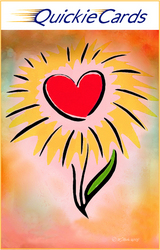 Men Who Care Buy Quality Greeting Cards at QuickieCards.com
Milwaukee, WI (PRWEB) May 25, 2010
Men can finally buy greeting cards that they actually like--quickly and easily with the launch of QuickieCards. With QuickieCards.com, men can sit in the comfort of their home and quickly buy quality paper greeting cards online for any occasion, instead of endlessly browsing card racks at a traditional store. By using more than 30 independent designers, all the cards have designs and sentiments created specifically for a man's taste from short and sweet to humorous to sentimental. The cards are all printed on high quality card stock, all cost the same, and always ship the next day free. In addition to not having to determine each card cost or shipping fees, the shopping experience is made painless by having no annoying pop-ups or unnecessary information to click through. Just click the occasion and then the recipient to see only the paper greeting cards desired.
QuickieCards was created by two men based in Milwaukee, Wisconsin, who had a vision for what card buying should be for men - quick and painless, yet special to friends and family. Even for the extremely busy or forgetful man, QuickieCards delivers on this vision. With it's QuickieService, men can buy and send all their greeting cards for the year in only minutes, by just listing who, when and where. QuickieCards does the rest by selecting the right card and sending it at the right time for each occasion. The quality paper greeting card is either mailed directly to the customer for personalization and hand delivery or mailed directly to the recipient with a handwritten greeting. Buying and sending greeting cards with QuickieService costs less than buying each card individually.
For men who care, buying greeting cards has just become easier. The QuickieCards.com experience offers higher value at a price better than most greeting card outlets. So skip the time-consuming trips to the card store and clicking through unfriendly card sites, and log on today to save time and money.
For more information about QuickieCards, or to buy quality greeting cards online, visit http://www.QuickieCards.com. On Facebook or Twitter, you can follow how they create smiles with their cards.
###