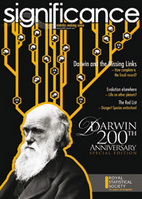 "Significance can provide better perspective of the impact that data, analytics, and the proper use of statistical methodology have on each of our lives."
Alexandria, VA (PRWEB) May 24, 2010
Beginning in September, the American Statistical Association (ASA) and the Royal Statistical Society (RSS) will join forces to co-publish Significance, a high quality, highly respected and well circulated publication that is directed not only to statisticians but also to the general public interested in statistics and the analysis and use of data. The quarterly magazine, which the RSS has published since 2004, uses non-statistical language to communicate and demonstrate, in an entertaining and thought-provoking way, the practical use of statistics in all walks of life and to show how statistics benefit society.
"In this age of data proliferation and its impact on all aspects of society, everyone benefits from an understanding of statistics and data analysis," said Sastry Pantula, ASA President. "ASA believes that a publication like Significance, which has developed a significant following since its inception, can help deliver that understanding to all its readers, statisticians and non-statisticians alike, and can provide better perspective of the impact that data, analytics, and the proper use of statistical methodology have on each of our lives. In addition, the collaboration between ASA and the RSS will help raise the visibility of each society, the statistics profession and statisticians."
"The Royal Statistical Society is delighted to be working with the American Statistical Association in co-publishing Significance, and with the opportunity this co-publication provides for bringing statistics to wider public audiences," said David Hand, RSS President. "This is an exciting venture for both our organizations. As well as greatly increasing the readership of the magazine, our partnership means we can work to establish Significance as the pre-eminent global statistical outreach magazine. We will be complementing the printed magazine with a new dedicated web site. This will allow printed articles to be linked to further details on the web, provide additional online-only articles, and allow readers to discuss the issues through web based forums."
Distribution and Subscriptions
Beginning with the September issue, Significance will be sent to about 17,000 individual ASA members as well as to 7,200 members of the RSS. In addition, Significance will be available to non-member subscribers. In addition to promoting the discipline of statistics and covering topics of professional relevance, Significance contains a mixture of statistics in the news, case studies, reviews of existing and newly developing areas of statistics, and practice and problem-solving techniques. Subscription information currently is available at http://www.wiley.com/bw/journal.asp?ref=1740-9705; the new Significance web site is scheduled to debut this Fall.
Editorial Board
The co-published version of Significance will have a joint UK-US editorial board, appointed by the RSS and ASA, which will make decisions on articles to publish and other relevant matters. Editorial board members are: Sharon Begley, Science Editor, Newsweek; Connie Citro, National Academies of Science, Senior Program Officer, Committee on National Statistics (CNSTAT); Martha Gardner, Global Quality Leader at General Electric Global Research; Wendy Martinez, Dept. of Defense, JSM 2009 Program Chair; Len Stefanski, Professor, Dept. of Statistics, NCSU, current editor, JASA Theory & Methods; Terry Speed, Professor, Dept. of Statistics, UC-Berkeley; Howard Wainer, Distinguished Research Scientist for the National Board of Medical Examiners and Adjunct Professor of Statistics at the Wharton School, UPenn; Scott Zeger, Vice Provost for Research, Johns Hopkins Bloomberg School of Public Health.
The following also are editorial board members: Daniela De Angelis, MRC Biostatistics Unit, Cambridge; Deborah Anileloye, Department of Health, London; Mario Cortina Borja, Senior Lecturer in Statistics, University College, London; Simon Briscoe, Statistics Editor, Financial Times; Frank Duckworth; Jon Forster, Professor, University of Southampton; Laura Gray, Medical Statistician, University of Leicester; Tony O'Hagan, Professor, University of Sheffield; Oliver Ratmann, Duke University, North Carolina; and Philip Woodward, Pfizer Research.
Individuals interested in submitting an article to Significance can contact the editor, Julian Champkin at significance (at) rss.org.uk).
About the Royal Statistical Society
The Royal Statistical Society (RSS) was founded in 1834 and is the UK's only professional and learned society devoted to the interests of statistics and statisticians. It is also one of the most influential and prestigious statistical societies in the world. The Society has an international membership of over 7,000, and is active in promoting the public understanding of statistics and acts as an advocate for the interests of statisticians and users of statistics. For more information, please visit http://www.rss.org.uk or call +44 20 7638 8998.
About the American Statistical Association
The American Statistical Association (ASA), a scientific and educational society founded in Boston in 1839, is the second oldest continuously operating professional society in the United States. For more than 170 years, ASA has been providing its members serving in academia, government, and industry and the public with up-to-date, useful information about statistics. The ASA has a proud tradition of service to statisticians, quantitative scientists, and users of statistics across a wealth of academic areas and applications. For additional information about the American Statistical Association, please visit the association's web site at http://www.amstat.org or call 703.684.1221.
For more information:
Rosanne Desmone
American Statistical Association
703.302.1861 office
703.946.3820 mobile
rosanne (at) amstat.org
Andrew Garratt
The Royal Statistical Society
Tel: +44 20 7614 3920
Fax: +44 20 7614 3905
a.garratt (at) rss.org.uk
###