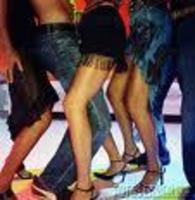 Keeping both sides at peace and creating a fun, high energy dance event is more challenging today than it has ever been. This isn't just the suggestive swiveling hips of Elvis.
Gig Harbor, WA (PRWEB) May 20, 2010
The nation's largest school dance DJ provider, Radio Parties DJ's, is in the hot seat at this time of year. With over 200 DJ professionals in their talent network in cities all over the US they recognized the need to address the issue.
Their commitment to making both sides of the lyrical battlefield at peace has given birth to a new web based tool to aid school administrators and DJ's around the country. The School Dance Network (http://www.schooldancenetwork.com), is the brain child of Radio Parties DJ President, Ric Hansen and is designed to help sort out the good from the bad and to assist in setting the bar for school dances.
According to their screeners here are the Top 10 songs this season to avoid a prom.
1. Rude Boy- Rhihanna    
2. My Chick Bad -Ludacris
3. Over- Drake ( a Young Money member and Lil Wayne protege)
4. Hey Daddy, Daddy's Home- Usher
5. Winner- Jamie Fox F/ Justin Timberlake
Roger that-  Young Money    
7. Steady Mobbin- Young Money
8. Not Afraid- Eminem
9. Lil Freak- Usher
10. Bedrock- Young Money
There are of course probably 110 more songs that are not appropriate. These are just the most popular and most offensive and top the banished songs hit list. For a complete alphabetical list you can find them at the School Dance Network web site on their NATIONAL DO NOT PLAY LIST.
On the flip side (for the glass half full crowd) Radio Parties has created a weekly list of The Top 30 Safe Songs that are great current hit songs on radio that are perfect choices to keep the dance floor full and the administration smiling.
This updated list is published each Wednesday throughout the school year on the Radio Parties Blog (http://www.radioparties.wordpress.com) with some commentary and notations regarding safe edited versions of songs.
While song lyrics are a part of the problem the other school dance issue is the inappropriate dance style known by different names that include: Freak Dancing, Grinding, and dirty dancing. If administrators are successful at corralling the lyrics issue the bigger battle becomes the sexually suggestive back to front dancing that has been referred to as "sex with clothes on".
A bigger battle because it is not so easily controlled: Not by the DJ or the dance chaperones. While Radio Parties and the School Dance Network are aware of the problem it is not totally in their hands although, recognizing the problem they have created a "Freak Patrol" Tee shirt for chaperones and faculty, a "No Grinding Button" and a sign to post at the event: NO FREAK ZONE.
Some say it is just another of this generation's quest to aggravate their parents along with baggie pants, skimpy skirts and stocking caps. While that may be the case, the dance issues have caused dance events to end early, or be cancelled and has given birth to the "student dance contract" (a promise not to dance dirty) as attempts to reign in the wild teen.
###