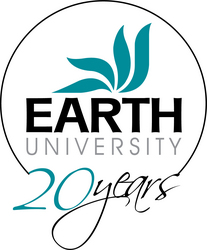 This is really an honor for the University as a whole, and for all of those who have believed in its mission during the last 20 years
Atlanta, GA (Vocus) May 24, 2010
Yesterday, EARTH University President, Dr. José Zaglul, was presented with an honorary doctorate of public service during the commencement ceremony for the College for Graduate Studies and the College for Continuing and Professional Studies at Chatham University in Pittsburgh, Pennsylvania.
This honor was bestowed in recognition of the 20th anniversary of EARTH University, a leading international institution in sustainable development located in Costa Rica.
Dr. Zaglul also delivered a keynote address during the ceremony, together with Mark Roosevelt, Superintendent of the Pittsburgh Public Schools in Pennsylvania.
"This is really an honor for the University as a whole, and for all of those who have believed in its mission during the last 20 years," expressed José Zaglul.
Dr. Pedro León, President of EARTH University's Board of Directors commented, "This honorary degree is an acknowledgment of EARTH's vision, innovative approach and leadership."
"The visibility that Dr. Zaglul has brought the University has helped increase awareness of the Institution's contributions and has been key in establishing EARTH as a global leader in sustainable development and the preparation of agents of change," he added.
Chatham University and EARTH University share many of the same guiding principles including a commitment to international education and environmental sustainability.
This is the second distinction that the EARTH president has received this year. On May 1, the School of Agriculture and Life Sciences at the University of Florida recognized Dr. Zaglul's outstanding career with the Distinguished Alumnus Award during their commencement ceremony in Gainesville, Florida.
Celebrating its 20th Anniversary in 2010, EARTH University (http://www.earth.ac.cr) was founded with the support of the United States Agency for International Development (USAID), the W.K. Kellogg Foundation and the Government of Costa Rica to prepare young people from economically-depressed communities in Latin America, the Caribbean and other regions, including Africa and Asia, to become agents for change in their communities. EARTH offers a four-year undergraduate program in agricultural sciences and natural resources management, providing a world-class scientific and technical education that emphasizes values, ethics, entrepreneurship and environmental and social commitment. Through the generous support of donors, EARTH University provides opportunities to young people who want to make a difference in the world but lack the financial resources for higher education.
EARTH University Foundation (http://www.earth-usa.org) was formed to support the educational vision of EARTH University through generous gifts from the global community and other programs and initiatives. The Foundation is a registered 501(c)(3) public charity headquartered in Atlanta, Georgia.
# # #