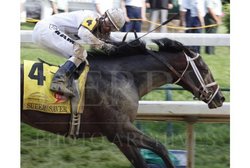 Louisville, KY (PRWEB) May 21, 2010
Kinetic Corporation, the Official Photo Archivist (http://www.derbyarchive.com) of the Kentucky Derbyand Kentucky Oaks releases imagery for viewing, purchase or licensing from the recent 136 running at Churchill Downs race track on May 1, 2010. Coined as the "Greatest Two Minutes in Sports", Calvin Borel added to that distinction this year by winning his third Kentucky Derby in 4 years aboard WinStar Farm's Super Saver. Trained by Todd Pletcher, Super Saver gave the trainer his first Derby win. Kenny Troutt and Bill Casner, owners of WinStar Farms also bred Derby winner FunnyCide
The Derby 136 TOP 100 (http://derbyarchive.com/toppicks.asp) photos were selected from over 25,000 images captured on Derby and Oaks Days at the historic Churchill Downs Race Track.These photos reveal the traditions of decades of horse racing shot from key vantage points around the track including the Winner's Circle and Trophy Presentations, the celebrities, the hat parade and the spectators. 2010 celebrities included Mario Lopez, Travis Tritt, Marlon and Tito Jackson, Smokey Robinson and Diane Lane who will be starring in Walt Disney Pictures' upcoming film, Secretariat.
The archives date back to the first Derby running in 1875 when Aristides won the race for the roses and include each year since. Another memorable moment was in 1973 when Ron Turcotte rode Secretariat (http://twurl.nl/n8w02d) to the first leg of the Triple Crown.
The photos make exquisite executive gifts for thoroughbred lovers, memorable keepsakes and are available for purchase or licensing for personal, commercial or publication. For more information contact Ann Tatum, Curator, Kentucky Derby Photographic Archives by phone at 502-719-9511 or email est(at)thetechnologyagency(dot)com.
# # #