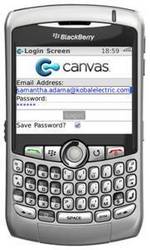 Herndon, VA (PRWEB) May 20, 2010
Canvas today announced the availability of a free application for Blackberry smartphones giving direct access to hundreds of mobile business applications from the Canvas app store. The free Canvas mobile app for Blackberry allows businesses and mobile professionals to easily replace paper forms and surveys using their Blackberry smartphones. Blackberry customers now have access to Canvas' growing catalog of off-the-shelf business apps and also have the ability to create customized applications for their specific business needs.
The Canvas app store offers mobile apps to enhance business productivity and efficiency for a variety of industries, including healthcare, government, construction, retail and wholesale distribution. Canvas mobile apps also support a variety of business functions, including sales force automation, field service, inspections, asset management, time, expense and travel.
Free Download and Free 30-Day Trial
Canvas is free to download in Blackberry App World and is available to install on Blackberry Tour, Blackberry Bold, Blackberry Storm, Blackberry Storm 2, Blackberry Curve and any Blackberry smartphone with an operating system of 4.2.0 or higher.
To download the Canvas app from your Blackberry Phone go to App World and search for "canvas" or use your desktop browser to browse the Blackberry App World Web-Store and follow the directions to push Canvas to your Blackberry.
Once the download is installed, users are directed to the Canvas web site at http://www.gocanvas.com to sign up for a free trial and access hundreds of Blackberry business apps that run on the Canvas mobile app platform. All these apps are free to download and use for 30 days. At the end of the 30 day free trial, Canvas costs only $.50 for each form, survey or transaction uploaded to the Canvas web site from a Blackberry smartphone. Companies and mobile professionals using customized Canvas apps to run their businesses may opt for unlimited use of Canvas at $20 per month or $210 per year. All Canvas service plans support an unlimited number of Blackberry apps for the same low price.
$99 Rebate Available on New AT&T Blackberry Smartphones
In conjunction with this release, Canvas partner, Atlantic Technology Group (ATG) is offering new Canvas customers the opportunity to receive a $99 rebate on the purchase of any new AT&T Blackberry Smartphone. This offer requires the purchase of a new line of Blackberry service as well as registration for Canvas.
To take advantage of this offer, Canvas subscribers can contact ATG today and experience the benefits of using a new Blackberry smartphone powered with Canvas' apps to enhance your mobile data collection needs.
About Canvas
Canvas makes it easy to publish data collection apps on wireless smartphones and other mobile devices such as laptops, tablets, bar code scanning devices and netbooks. Canvas reduces paper consumption, redundant data entry and excess process for businesses and mobile professionals. The Canvas software service enables mobile professionals to collect information using their mobile devices, analyze that data on the Canvas web site, and share information across their business community. Canvas also offers the first mobile app store of its kind allowing business users to find mobile applications that work on a wide variety of mobile devices, with every application being customizable by Canvas users. Founded in October, 2008, Canvas Solutions, Inc is headquartered in Herndon, VA. Visit Canvas at http://www.gocanvas.com.
About ATG
Atlantic Technology Group is a professional organization dedicated to creating value for our clients as a Total Solution Provider of mobility applications, devices and services.
We focus on providing our clients with best in class mobility applications, wireless devices and lifecycle management services. Implementing our solutions and services allow our clients to gain a competitive advantage.
Our focus on Mobility Applications maximizes our clients return on investments in this technology. Our mobility applications provide a full suite of solutions that deliver business value and increase efficiencies in such functional areas as such as Health Care, Fleet Management, Field Service, Business Continuity and Mobile Office.
Contact
Canvas
James Quigley
http://www.gocanvas.com
703-435-5166
Atlantic Technology Group
Dan Connelly
http://www.atlantictechnologygroup.com
301-330-6260
# # #