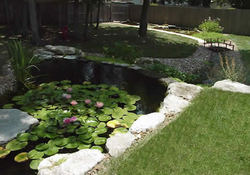 KoiPondFever.com is now offering free shipping on all koi food through the month of May 2010. Don't miss out on great deals on koi food and save even more with FREE SHIPPING!
Independence, MO (PRWEB) May 21, 2010
The focus at KoiPondFever.com is to offer quality products at an affordable price, fast reliable service, and good information on constructing and maintainig a healthy, natural watergarden with beautiful koi. They work directly with manufacturers and reputable distributors to provide top notch products to customers. Centrally located in the Midwest, they provide efficient quick delivery of products and reliable warranty for those products. Their knowledgeable, courteous staff that is available to answer whatever questions customers may have. KoiPondFever.com has comprehensive information on koi pond construction, water filtration methods, plants, koi predators, koi feeding, and the different koi varieties.
Whether customers need a new pond skimmer a new pond pump or want to spruce up their pond with some pond lighting KoiPondFever.com has what customers are looking for. Many of their items include free shipping.
If just getting started with a pond project KoiPondFever.com offers Firestone 45 mil EPDM pond liner. Sizes from 8' x 10' to 35' x 100' are avialable and shipping is included in the price. Liner underlay is recommended for all pond liners, especially Firestone PondGard EPDM liners. Liner Underlay is available in 5' and 15' widths, but can accomodate any size pond by simply overlapping multiple pieces with no seaming required.
KoiPondFever.com offers water treatments for any situation. Help jumpstart the biological cycle with Microbe-Lift Spring Cleaner or clean up sludge buildup with Microbe-Lift Sludge Away One of the featured water treatments is Ultimate Koi Clay which contains over 60 minerals and trace elements. This Calcium Bentonite clay aids in enhancing digestion and growth, as well as neutralizing metabolic toxins. Koi that have a poor diet will show up in the whites looking dingy, especially in the face where it will look more yellow than in the rest of the koi. You can also add bentonite clay directly to the pond water to help stabilize the water ph.
KoiPondFever.com specializes in koi food that is proven to enhance the color, growth and overall health of Japanese koi. Their most popular koi food is Dainichi Premium. Ideal food for keeping all koi in show quality condition, this high performance formula provides koi with a perfect balance of both growth and color. PREMIUM can be used alone or in conjunction with other formulas such as Growth Plus or All-Season. Featuring five sources of protein, including spirulina, krill, and shrimp, this formula is an all-time favorite with serious hobbyists and many top Japanese koi breeders . All Dainichi koi foods contain calcium montmorillonite/bentonite clay to simulate the natural ingestion of mineral particles and to bind and neutralize metabolic toxins. Raw, fully potent vitamins, digestive enzymes and garlic ensure that the koi are healthy and free of internal parasites. Now through the month of May 2010 KoiPondFever.com is offering free shipping on all of their koi food.
# # #