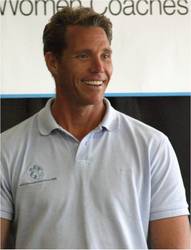 Bo Hanson says that the challenge of understanding players isn't an isolated example with Michael Oher's coach, it is often the norm. Research shows that this is the top challenge for coaches.
San Diego, CA (PRWEB) May 21, 2010
The movie The Blind Side has been enjoyed by massive audiences around the world and deservingly so with its inspirational portrait of football star Michael Oher (played by Quinton Aaron) and the Oscar winning performance of Sandra Bullock, playing his adoptive mother Leigh Anne Tuohy.
Bo Hanson, 4x Olympian and Sports Consultant says "While it is an outstanding movie all round, for sports coaches, it is an important reminder to watch their own blind side too. Often for coaches their blind side is missing the understanding of their individual players."
The movie is the true story of football star Michael Oher's life and with the help of his adoptive family how he overcame great odds to graduate from college and play in the NFL. It is a story of inspiration, resiliency, determination, natural talent, and the impact that caring can make.
"One of the most striking scenes in the movie was when Sandra Bullock's character intervenes during practice. Mike is being coached about his role on the team and his blocking technique. If you've seen the movie, I'm sure you'll know exactly the scene." Bo Hanson, 4x Olympian and Sports Consultant, says.
The scene Hanson is referring to is where Michael Oher's coach, with the very best of intentions, is yelling at him, stepping inside his personal space, being highly directive and very aggressive. The coach's message is not getting through and only causing confusion in Mike.
Sandra Bullock intervenes. She understands football, she knows what Michael's role is on the team and most importantly, she knows Michael. She walks past the coach to Michael on the field. She explains to him how his role on the team is to protect the quarterback in the same way he protects his family. She creates the link that Michael's family on the field is his team. Essentially, she puts the message in a language and context Michael can understand. It's the turning point in the movie and the final exchange in this scene is between the coach and Sandra Bullock's character, when she says, "Coach, you need to get to know your players."
Hanson says that the challenge of understanding players isn't an isolated example with Michael Oher's coach, it is often the norm.
Hanson's company, Athlete Assessments, conducted a survey of elite sports coaches back in 2008 and it showed that the top three challenges faced by coaches are:
1. 50% - "Understanding individual athlete's personality and how to best motivate them"
2. 46% - "Personal life balance – managing sport, career, home and social etc"
3. 31% - "Team/squad dynamics and managing relationships within the team/squad"
The survey also asked coaches what they believed were the top three characteristics of a phenomenal coach, and the responses were:
1. 61% - "Focusing on the athlete as a 'whole person' (to develop in and outside the sport)"
2. 55% - "Strong communication skills and ability to teach'"
3. 53% - "Persistence in looking for new ways, techniques and tools to improve performance"
'I believe the movie is an important reminder of what makes top coaches and what their biggest challenges are.' Hanson says.
"The coach-athlete relationship is critical to sporting success and there is more and more research being done that shows that this should be a key focus area in sport." Hanson said.
For example in the 2009 study by the Canadian Olympic Committee they found the most significant contributor to a medal winning performance or a personal best performance at the Beijing Olympics, was a strong coach-athlete relationship.
Mr Hanson said the aim of Athlete Assessments was to work with coaches to develop strategies to improve their coaching skills and to give them choices on how to coach the different types of personalities they will find on their teams.
'We should do everything in our power to support coaches and help them understand their athletes. This message couldn't have been stronger in the movie, which I think is great.' Hanson says.
'Often I am asked to explain what Athlete Assessments is all about. Until I saw the movie The Blind Side, I would embark on quite an explanation. Now, thanks to that incredible movie, I can simply reference this scene. In a nutshell, this is how we assist coaches and athletes. We help coaches 'get to know their athletes' and inspire them to the highest possible performance level and without Sandra Bullock walking in on their practice!' Hanson says.
# # #