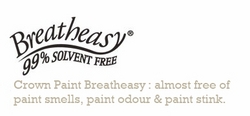 (PRWEB) May 21, 2010
This month sees the much-anticipated launch of the brand new Feature Wall collection by Crown Paints. Crown's latest range is an exciting new opportunity for those seeking to create a stunning transformation in their home, with six vibrant new colour tones to choose from; Cuban Heat™, Chartreuse Mix, Cafetiére™, Scrumptious™, Rebel™ and Laguna Bay™.
The collection comes in convenient 1.25l packs, making it ideal for homeowners with an eye for fashion seeking to create a stylish feature wall. As well as being very much on-trend, feature walls offer a quick and convenient way to explore vivacious new vibes in any room. And while most paint smells bad and leaves a characteristic paint stink in your home, every paint in Feature Wall is produced using Crown's Breatheasy® formulation for minimum smell (visit http://www.crownpaint.co.uk/breatheasy.htm to find out more). Of course, every colour and finish available in the new range will co-ordinate and combine seamlessly with the full Crown selection of matt and silk colours, to allow contemporary feels with maximum flexibility.
For anyone seeking to create a distinctive feature wall in their house or apartment, a choice from the Feature Wall range and a little imagination is all you need. Anything from a single wall painted with full block colour, a bold stripe, an elegant alcove, or even a trendy stencil is possible. The brand new Feature Wall collection from Crown offers outstanding colours to carry off the most ambitious of intentions. Chartreuse Mix, Scrumptious™and Cuban Heat™ are a funky taste of fresh, pop flavours. Rebel™ is a timeless classic, while the indulgent overtures of Cafetiére™and Laguna Bay™ provide an elegant je ne sais quoi.
Look out for 40ml matchpots® for all of the Crown Feature Wall colours. Matchpots® let you experience the colours without buying them – to order Crown Pure Paint® Colour Samples, simply visit http://www.crownpaint.co.uk. These A5 pre-painted colour swatches are ideal for matching against your accessories without making a mark on your existing wall colour. Cost for 5 Crown Pure Paint® Colour Samples is £2.49. Home delivery is included and takes 3 to 5 working days.
# # #