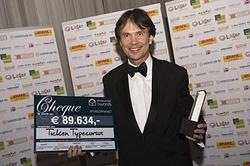 JoomlaLMS is a professional learning management system based on well-known Joomla! web content management system.
(PRWEB) May 21, 2010
On March 25, 2010 Joomla! CMS based web project ticken.nl was awarded as "best IT startup" at annual Thuiswinkel Awards ceremony in Amsterdam, the Netherlands. The founder of the project have got €89.634 sponsorship communications package in addition to the title.
The idea of creating web-based distant learning project to provide ten-finger typing courses belongs to Martin Beijer. As he payed €200 for his daughter' typing courses and wasn't satisfied with both learning process and the results, he decided to create his own typing courses portal using modern web technologies. He leaved his executive position in Shell, sold his house and turned to an IT company with proven skills in eLearning web development. The requirements were as follows: create online typing courses with personal statistics page as well as an option allowing to compare results.
Using both Joomla-based learning management system and the interactivity of flash, Belitsoft company developed extraordinary distance learning resource. Currently Ticken.nl project has such features like reporting and statistics system, ratings, training flash games, parent control, certification and many others. It resulted in beauty, handy and highly effective product based on Joomla! platform, and was reasonably awarded by Thuiswinkel Awards jury team.
###