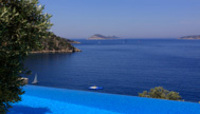 (PRWeb UK) May 28, 2010
Exclusive Escapes are also pleased to present their best ever rates for high season departures between 10 July – 29 August on the following properties
The Ece on Sövalye is a Select Boutique Hotel that enjoys a spectacular position, with every one of its rooms boasting wonderful sea views from an entirely pedestrianised island.
[The Deniz Fenri Lighthouse is considered to be the premier hotel on the Kas Peninsula. This Exclusive Boutique Hotel offers stunning modern architecture, a breath taking waterfront location and outstanding cuisine.
New to Exclusive Escapes for the 2010 season is the recently transformed Bördübet. The combination of warm Turkish hospitality mixed with an oasis of lush greenery that's alive with wildlife, makes this Exclusive Boutique Hotel the perfect choice for an unforgettable escape.
If you would like to take advantage of Exclusive Escapes' tremendous high season rates and experience a truly unique holiday, then there are still places available, however they are limited, so you are advised to book now to avoid disappointment.
For more information on Exclusive Escapes see http://www.exclusiveescapes.co.uk or
Telephone 020 8605 3500.
Exclusive Escapes Limited
Alexander House
15 Princes Road
Richmond
Surrey
TW10 6DQ
# # #