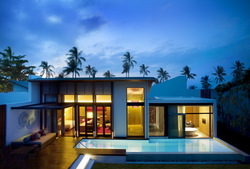 "W Koh Samui will redefine the way we live and play," commented Coetzer Deysel, General Manager of W Retreat Koh Samui. "This all-villa beachfront resort will offer travelers an 'escape within an escape'."
Plymouth, UT (PRWEB) May 23, 2010
W Hotels Worldwide, the hotel category buster and industry innovator, prepares to welcome travelers to its first W Hotel in Southeast Asia with W Retreat Koh Samui's "Why Not Enjoy an Extra Night on Us?" and "Retreat and Surrender" experiences. An all-villa beachfront resort that will be a sublime architectural tribute to Maenam Beach on Samui Island's pristine northern coastline, W Koh Samui will offer an "escape within an escape" when it opens this summer 2010.
Available for booking now, the "Why Not Enjoy a Night on Us?" experience is a special package that allows guests to saturate their senses and be wowed by the Gulf of Thailand's pure beauty, where the only sounds heard are those of turquoise waves lapping on golden sand, palm tree fronds rustling in the breeze, and where daytime is dedicated to individual moments and relaxation, while the night brings energy and celebration. The experience includes:

Two nights private villa accommodations, with third night complimentary
Breakfast for two at The Kitchen Table
A Ritual at Thaimazcal* followed by a delicious sip at TONIC
Whimsical W gift
*The Thaimazcal® treatment is unique and inspired by the traditional Mexican style Temazcal. This first Thaimazcal® treatment in Asia is a herbal - thermal treatment that will cleanse and purify the body. Local Thai herbs and essential oils are used for different treatments – and will stir up the blood and rejuvenate the body.
From August 1 till October 31, 2010, guests have the option of enjoying a Jungle Oasis starting from THB 16,000 per night or a Tropical Oasis for THB 19,000 per night. To book this offer, visit http://www.whotels.com/kohsamui or call (66) (77) 915 999 and request promotion code APPRO1.
Additionally, W Retreat - Koh Samui WOWs guests with its "Retreat and Surrender" package, a special experience that includes accommodations in one of the Retreat's 75 private villas equipped with modern lifestyle innovations; delicious breakfast for two at The Kitchen Table; complimentary roundtrip airport transfers; a Whatever/Whenever Credit of THB 2,500 per day for use in the Retreat's restaurants, bars and spa, and upgrade to the next Retreat category. Starting from THB 16,000 per night, this experience is available August 1 to December 31, 2010 and can be booked by visiting http://www.whotels.com/kohsamui or by calling (66) (77) 915 999 and quoting promotion code WOPEN.
Capitalizing on Thailand's long history of festivals and lunar ceremonies, W Retreat Koh Samui will be the destination where daytime is dedicated to individual moments and relaxation, while the night brings energy and celebration. With its powdery golden sands and unspoiled waters, W's location is a perfect sanctuary for local and global jetsetters alike, and the Retreat's signature programming and service promise will bring a unique dimension to the everyday resort experience and a new way to escape.
W Koh Samui's W Lounge (W's reinterpretation of the traditional hotel lobby), a spectacular indoor/outdoor lounge, is a tribute to its location, perched on the hillside yet visually connected to the sea below. Round lounge seating areas are submerged in a glistening, infinity-edge reflecting water feature perfect for sipping bubbles or cocktails with friends or soaking in the sun. Guests of the Retreat will enjoy preferred dining reservations and seating at The Kitchen Table, All Day Dining with food for the heart, out of the wood oven; Namu, a contemporary Japanese restaurant; or Sip Lounge, creating a memorable dining experience for both guests and locals alike.
aWay Spa, the signature spa at W Koh Samui, will offer guests and in-the-know locals a place to detox from the long, playful night out and refuel for whatever comes next. Services will include massages, facial and body treatments, manicures and pedicures, as well as a range of treatments incorporating local Thai influences in a contemporary way. In addition, aWay Spa will offer Asia's first "Thaimazcal" treatment facility, mixing Mexican tribal rituals with local Thai ingredients. To round out the unique wellness offer, guests of W Koh Samui will enjoy the WET pool, SWEAT state-of-the-art fitness facility, water sports center, tennis courts, and Style Lab.
W Retreat – Koh Samui will feature 75 private villas, offering a range of options from panoramic views high atop the Samui hillside to direct beach access on the shoreline below. Each villa is equipped with modern elements, including private plunge pool, daybed, an outdoor shower, Yamaha sound system, 46-inch plasma screen TV, wine refrigerator, and signature W bed. W Koh Samui will also offer W's signature Whatever/Whenever® concierge service, providing guests and residents with whatever they want – from a Champagne brunch on a deserted beach to an intimate sunset wedding on a stretch of Koh Samui's glistening sand – whenever they want it, as long as it's legal!
About W Hotels Worldwide®
W Hotels is an innovative contemporary lifestyle brand and the hotel category buster with 38 hotels and retreats in the most vibrant cities and exotic destinations around the world. Inspiring, iconic, innovative and influential, W Hotels provides the ultimate in insider access to a world of "Wow." Each hotel offers a unique mix of innovative design and passions around fashion, music and entertainment. W Hotels offers a holistic lifestyle experience that is integrated into the brand's sensibility through contemporary restaurant concepts, glamorous nightlife experiences, and signature spas. With more 10 years of proven success, W Hotels is on track to double its footprint by 2011. W Hotels and W Retreats have been announced for Koh Samui, downtown New York, Hollywood, London, Paris, St. Petersburg, Guangzhou, Shanghai, Bali, Taipei and Verbier, among other international destinations. For more information, visit http://www.whotels.com.
# # #