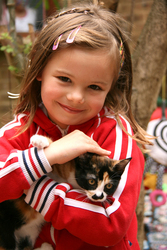 the lost and starving dogs and cats of London so that they should have sanctuary from the cold inhumanity they are being dealt outside
(PRWeb UK) May 22, 2010
The Mayhew Open Day –cute animals, fantastic stalls and live music –what more could you want for Summer fun!
The Mayhew Animal Home - Trenmar Gardens, London, NW10 6BJ
Sunday 18th July, 11.30am - 4.30pm
Join us for our fantastic annual Open Day on site at The Mayhew Animal Home. In the style of a traditional street party, the road outside the Home is closed off for the day and host to live music, gift stalls, children's games and activities, a bouncy castle and face-painting!
Children and their families will also get the chance to meet some of the cats and dogs looking for new homes and have their photos taken in our kitten garden with some of our little residents. The Mayhew's homeless hounds will also take a tour in The Mayhew Dog Show, in the hope someone will fall in love and give them their forever home.
We also provide a tasty BBQ, interactive tours of our veterinary clinic where children can see how operations are held -demonstrations on soft toys only!
There is also an International-themed area - always so much to see and do throughout the day!
Adults: £2.50
Under 16's and Senior citizens: £1.50
For more visitor information, please contact Fran Llewellin at events(at)mayhewanimalhome(dot)org or on 020 8968 2445.
For media enquiries, please contact sarah(at)mayhewanimalhome(dot)org 020 8968 2443
For the Editor
The Mayhew Animal Home was established in 1886 for the benefit of "the lost and starving dogs and cats of London so that they should have sanctuary from the cold inhumanity they are being dealt outside". Today, The Mayhew is one of the busiest animal sanctuaries in London, rescuing thousands of animals from cruelty and neglect each year. We provide shelter and care for cats, dogs, rabbits and when the need arises, for a wide variety of other animals.
The Mayhew Animal Home strives to tackle the companion animal welfare crisis from every possible angle. The organisation is pro-active, innovative and continually works to assist animals and their carers. The Mayhew offers a wide variety of community services providing advice, care and assistance to animals and their carers whatever their circumstances.
###