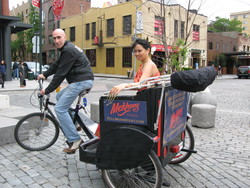 These are no ordinary rides, each rickshaw is hosted by a 'Thai princess.'
New York, NY (PRWEB) May 20, 2010
Mekhong Thai Spirit is celebrating the proliferation of new Mekhong spring/summer cocktails being served at several hot Manhattan Westside bars and restaurants with free rickshaw rides for the public. These are no ordinary rides, each rickshaw is hosted by a "Thai princess" who will tell consumers about the exotic Thai spirit and take them to establishments serving samples of Mekhong cocktails – and many for purchase at special promotional prices. Revel, STK, Entwine, G2, Gaslight and Comix are among participants.
Twenty-four Mekhong-branded rickshaws and Thai princesses take to the streets in the Meat Packing District on Friday and Saturday nights, May 21 & 22, 9 p.m. – 12 a.m. to provide free rides to those who ask. In addition, in speaking to the princesses, consumers have a chance to receive an invitation to what is being billed as this year's hottest private rooftop parties -- the "Mekhong Full Moon" party on Thursday, May 27 in Chelsea. At 40 locations throughout the Meat Packing District the public will see power-washed stencils that read "Ask A Thai Princess" with the website http://www.fullmoonevent.com. The stencils encourage people to approach the Thai princesses on Friday and Saturday nights. Consumers can also enter to win a Full Moon Party invitation by visiting the website.
The Mekhong Full Moon Party brings the traditional Full Moon celebrations from Thailand to New York with a Manhattan twist. May's full moon is on the 27th. Flambeaux of the famed lower eastside The Box and of "America's Got Talent" is serving as guest host. Noted mixologist Orson Salicetti (Apothoke & Covet) has created three one-of-a-kind delicious Mekhong cocktails, which are complemented by Thai fare artfully prepared by Bluechili. VJ Goldfinger (Apothoke, The Box & Cielo) will lead the beat and emerging talented DJs Liquid Agents, DJ Nicole and Otero (Lovebreak music) will show their stuff to see who reins the night.
International award-winning Mekhong is called "the most exciting exotic spirit to come along in awhile" for mixing in cocktails by many well known mixologists. Among the group are New York-based Willy Shine of Contemporary Cocktails Inc.; Dushan Zaric and Jason Kosmas of Employees Only and Somer Perez of Couture Cocktail Concepts. A million case-seller in Asia, Mekhong is a unique premium blended and distilled Thai spirit made mostly from sugar cane and rice and infused with a special blend of indigenous Thai herbs and spices. The highly secret Mekhong recipe delivers a distinctively rounder texture, delightful aroma and a smooth and more balanced taste than most golden spirits. Mekhong (http://www.mekhong.com) is likened to other national pride spirits in different parts of the world that have become popular specialty alcohol in the U.S. such as Peru's Pisco, Mexico's Tequila, Japan's Sake and Brazil's Cachaca. At 35% alcohol by volume, the product's smooth mixability makes Mekhong an ideal spirit for fascinating and flavorful cocktails. Mekhong is a complex and well balanced blended and distilled spirit with a golden, dark amber and reddish copper appearance. Its flavor and aroma is both spicy and sweet with hints of ginger, honey, toffee, vanilla, floral, herbs and citrus.
###