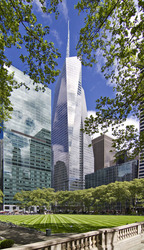 USGBC CEO and founding Chair Rick Fedrizzi said, "The Bank of America Tower has achieved profound and worldwide impact, serving as the definitive blueprint for green high-rise construction."
New York, NY (PRWEB) May 20, 2010
The Durst Organization, Bank of America and the U.S. Green Building Council (USGBC) today announced the Bank of America Tower at One Bryant Park in Midtown Manhattan has achieved LEED Platinum certification. This marks the first time in U.S. history that a high-rise commercial office building has attained the highest LEED green building rating for environmental performance and sustainability.
The Bank of America Tower, located on Sixth Avenue and 42nd Street, was certified Platinum under the LEED Core & Shell designation, recognizing the entire design and construction team for its pioneering approach to providing occupants with cleaner air and more natural light, while conserving energy and other natural resources within the building.
The 55-story, 2.1 million square foot Bank of America Tower, designed by Cook + Fox Architects, utilizes a wide range of high performance environmental strategies and technologies to enhance the health and productivity of its tenants, reduce waste, and promote environmental sustainability. An exquisitely clear, high-performance glass curtain wall permits maximum sunlight and views to the outdoors while blocking unwanted heat. An advanced under-floor air delivery system allows for individual control of heating and cooling and provides clean filtered outside air.
Efficient power comes from an on-site cogeneration plant, which works in concert with an ice-storage system to reduce the building's peak energy demands. The tower will also capture and re-use nearly all rainwater and sink water, saving millions of gallons of precious drinkable water each year. A high percentage of the building's materials come from recycled or local sources located within 500 miles of New York City.
The building's faceted crystal design opens up oblique views and lets more daylight reach the street, while capturing and refracting the changing angles of the sun. In contrast to this sleek exterior, the base of the building locks into the urban fabric with natural, earth-bound elements that relate to the human scale of the street. New public amenities include a mid-block pedestrian passage known as Anita's Way and an Urban Garden Room at the corner of Sixth Avenue and 43rd Street, which acts as a front porch by providing public space and a sheltered extension of Bryant Park. In addition, the project includes the newly-opened Stephen Sondheim Theatre, which was originally built as Henry Miller's Theatre in 1918, and is now the first "green" theater on Broadway.
"Through PlaNYC, our Administration has taken major steps to ensure New York City is at the forefront of sustainable design, and part of that entails relying on the City's private sector to help lead the way," said Mayor Michael R. Bloomberg. "The Bank of America Tower is a terrific addition to the City's sustainable landscape and will serve as an inspiration for others."
Said Anne Finucane, Global Strategy and Marketing Officer, Bank of America, "At Bank of America, we recognize that business and environmental objectives go hand in hand. When we partnered with the Durst Organization, we committed to creating a structure that goes far beyond a typical corporate headquarter tower; we demonstrated how part of our $20 billion environmental business initiative to address climate change drives an opportunity effect that helps our economy and the environment. Our combined determination has produced a building that stands as a testament to advancements in environmental intelligence, sustainability and occupant health, and has created jobs and contributed to the vitality of the greater commercial real estate portfolio in the New York City. We believe this tower sets the new 'platinum' standard for environmental and corporate responsibility in the workplace."
The Durst Organization co-President Douglas Durst said, "Thanks to Bank of America's commitment, as well as the creativity and innovation of our team, led by Cook + Fox Architects, Tishman Construction and Jaros Baum & Bolles, we proved it is possible to build in a manner that not only respects our surroundings but significantly improves them as well. Having seen the results of this process, I am even more firmly convinced that building to the highest LEED standards of environmental sustainability is the right and only approach."
USGBC CEO and founding Chair Rick Fedrizzi added, "The Bank of America Tower has achieved profound and worldwide impact, serving as the definitive blueprint for green high-rise construction. We at the USGBC, as well as architects, engineers and builders around the globe, have learned an enormous amount thanks to this project. A great many project teams set out with the platinum rating as their goal, but only the Durst/Bank of America/Cook+Fox team has attained it in the skyscraper category. The USGBC applauds every member of the project team for this crowning achievement."
Cook + Fox Partner Rick Cook said, "As an architectural firm committed to innovation and urban stewardship, it has been an absolute privilege to work with the Durst Organization, which has been a visionary leader in the green building movement, and Bank of America, which challenged us at every step to create the healthiest, most productive and satisfying work environment possible for their employees. Their unfailing commitment has made it possible to achieve LEED Platinum."
The LEED Platinum designation was based on a number of green design and construction features that positively impact tenants and the broader community. These features and benefits include:
Occupant Health/Indoor Air Quality

Air filtration removes 95% of particulates. Most outside air is taken in at 800 ft above street level.
Natural daylight and views are maximized through higher 9'6" ceilings and floor-to-ceiling windows glazed with extremely transparent, low-iron glass.
State-of-the-art under-floor ventilation system allows for individual climate control through in-floor air diffusers. Floor-by-floor air handling units provide more even, efficient, and healthy cooling and fresh air.
The fabrication, delivery, on-site storage, and installation of air handling systems were closely monitored by construction team to ensure optimum air quality was consistently maintained.
A continuous air monitoring system tracks CO2 , CO, Volatile Organic Compounds (VOCs) and small particulates, and ensures consistently high quality of ventilation air.
Water

Graywater system captures and re-uses nearly all 48 inches of annual precipitation, as well as cooling coil condensate and sink water generated on site.
Water savings of approximately 7.7 million gallons per year will be achieved through graywater treatment and re-use, waterless urinals, and low-flow plumbing fixtures. The waterless urinals save 3.4 million gallons of potable water annually. Collection tanks staged throughout building take advantage of gravity to transport graywater.
Nearly zero stormwater discharged to city sewer system.
Because building's foundation is deepest in Midtown, approximately 5,000 gallons of groundwater per day collects from neighboring sites and is captured and reused in the graywater system.
Local water supply was protected during building construction.
Energy

High performance curtain wall reduces solar heat gain through low-emissivity ("low-e") glass and heat-reflecting ceramic frit; building facade reduces air infiltration.
Higher ceilings and highly transparent glass reduce artificial lighting requirements. Occupancy sensors control lighting of base building spaces. Automated daylight dimming system in lobby, Durst, and Bank of America spaces reduces lighting and cooling energy by up to 10%.
4.6 MW, on-site co-generation (aka Combined Heat and Power) system provides approx 65% of building's annual electricity requirements, and reduces daytime peak electricity demand by 30%. The system also generates most of the heating energy for the building.
Waste heat from co-generation is used to provide heat in winter and cooling in summer through an absorption chiller.
Ice storage system provides approx 25% of the building's annual cooling requirements, reducing daytime peak loads on city's electricity grid. At night, excess electricity from co-generation system is used to produce ice, which is melted during the day to supplement the cooling system.
Materials

91% of all construction and demolition waste was recycled or otherwise diverted from landfill. Trade contractors proactively diverted additional tonnage by taking back the majority of their empty wood electrical reels and packaging pallets for future reuse.
Structural materials include steel made of 87% recycled content and concrete made from cement containing 45% recycled content (blast furnace slag).
Approximately 1.6 million square feet of glass, used in 8,644 curtain wall panels, was assembled within 500 miles of site, and was protected in transit by sustainably harvested wood crating.
All building materials were carefully sourced and reviewed before installation to confirm they were low-VOC, sustainably harvested, manufactured locally, and/or recycled wherever possible.
Salvaged artifacts from Henry Miller's Theatre reused in new building.
Site Improvements/Public Benefits

Site includes zero parking spaces; instead, it takes advantage of prime location for mass transit in city with one of the world's best transit systems.
Urban Garden Room provides green public space, reinforcing building's street-level interactions as well as its connection to Bryant Park.
Project includes the new Stephen Sondheim Theatre (formerly Henry Miller's Theatre), a new state-of-the-art Broadway theater that incorporates the former venue's restored, historic brick façade and will achieve LEED Gold certification.
Anita's Way, a new mid-block pedestrian passage connecting 42nd and 43rd Streets, relieves crowding in dense Times Square area while providing informal public arts space and protected stage door entrance for theater.
Site provides 3 times more public circulation space than what is mandated by as-of-right zoning, including widened sidewalks and a new subway entrance.
A below-grade pedestrian passageway will eventually link B, D, F, and V subway lines to the main Times Square station.
Urban heat island effect is reduced by green roof and highly reflective pavers.
Bank of America
Bank of America is one of the world's largest financial institutions, serving individual consumers, small- and middle-market businesses and large corporations with a full range of banking, investing, asset management and other financial and risk management products and services. The company provides unmatched convenience in the United States, serving approximately 58 million consumer and small business relationships with more than 5,900 retail banking offices, more than 18,000 ATMs and award-winning online banking with nearly 30 million active users. Bank of America is among the world's leading wealth management companies and is a global leader in corporate and investment banking and trading across a broad range of asset classes, serving corporations, governments, institutions and individuals around the world. Bank of America offers industry-leading support to approximately 4 million small business owners through a suite of innovative, easy-to-use online products and services. The company serves clients in more than 150 countries. Bank of America Corporation stock (NYSE: BAC) is a component of the Dow Jones Industrial Average and is listed on the New York Stock Exchange.
The Durst Organization
The Durst Organization, founded in 1915 by Joseph Durst, is the owner, manager and builder of 10 million square feet of premiere mid-town Manhattan office and residential properties. The Organization is recognized as a world leader in the development of high-performance and environmentally advanced commercial and residential property.
###