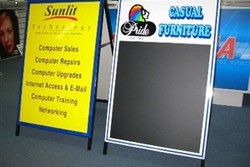 "A Frames are the essential for the growth of any retail, commercial, or food service business," says SIGNARAMA CEO, Ray Titus.
West Palm Beach, FL (PRWEB) May 24, 2010
SIGNARAMA, the world's largest sign franchise, announces its new convenient online service is now offering affordable A-frame signs, putting the cost of business advertising within reach to all small businesses during this time of economic recovery. A-frames, also known as a sandwich board, sidewalk signs, or pavement signs, are a great way to attract new customers. Sidewalk signs are proven to provide an effective and economical increase to your advertising message, and generally require no special permits for placements. A-frames can be ordered 24/7 via SIGNARAMA's online service, giving customers the convenience of simple web-based design tools to back up the 20 years of service and value found in the local stores.
A-sandwich board is highly effective for businesses in a strip mall experiencing limited exposure. These portable signs, strategically placed, can spotlight your business, generating increased traffic. Especially during these tough economic times, A-frame signs are a critical component to your overall advertising message, and most municipalities and landlords allow them to sustain healthy, thriving business.
"A Frames are the essential for the growth of any retail, commercial, or food service business," says SIGNARAMA CEO, Ray Titus.
"AFrames are the foundation for sign advertising for today's small businesses. They increase traffic, plus they're durable and economical. Changing the message is easy too. Just return to your project on ShopSIGNARAMA and revise the two printed sidewalk sign inserts when a new message is needed," says SIGNARAMA President, Jim Tatem.
Customers can reach the online ordering system through ShopSIGNARAMA.com, 24 hours a day. They can create their own design from scratch, or modify any of the thousands of Customers either pick up at one of nearly a thousand stores worldwide, or have the order shipped directly to them.
With nearly 1000 retail locations worldwide, SIGNARAMA uses cutting-edge industry software programs to provide a full range of comprehensive sign and graphic services to both the private and commercial segments of the business community.
Whether you own a beauty salon, coffee shop, deli, boutique or other retail establishment looking to increase foot traffic, an a frame sign placed by the open door, will surely lead people in to check it out. To see the wide variety of templates and A-frames available, and buy a sign online, visit http://www.shopSIGNARAMA.com. For more information about ShopSIGNARAMA contact Christine Marion at (561)-713-2503.
###