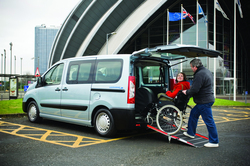 Allied Mobility managing director Paul Nelson comments: "We always try to listen to market feedback. By introducing these new models we hope to better meet the needs of even more disabled people."
(PRWEB) May 22, 2010
Allied Mobility has further expanded the model range for its market-leading Citroen Independence.
The Independence is a fully wheelchair accessible conversion of the Citroen Dispatch MPV. Allied's unique adaptation provides easy access for wheelchair users, aided by a lightweight EasyFold™ rear ramp and lowering air suspension.
The leading supplier of disabled cars and MPVs, Allied continues to invest in new models and options to meet the personal transport needs of wheelchair and scooter users.
Choice
Built exclusively by Allied, the Independence S model is enhanced by the introduction of a wider choice of seating options. These include placing the wheelchair stance closer to the front seat driver and passenger and the option of an extra third row seat. This means the vehicle can now accommodate driver and up to six seated passengers, together with a wheelchair passenger or stored scooter.
The new SE model introduces further choice with a lowered rear floor section, providing additional headroom for particularly tall wheelchair passengers. The Independence Twin, as its name suggests, provides a two-wheelchair option.
Range
Allied Mobility is the leading supplier of wheelchair accessible vehicles through the national Motability Scheme. Other disabled cars now offered by Allied include the Vauxhall Venture, Fiat Freedom, Volkswagen Vista and the record-breaking Peugeot Horizon. Popular with both wheelchair and scooter users, all of the vehicles come with access ramps, wheelchair restraints and wheelchair passenger seatbelts as standard.
Managing director Paul Nelson explains: "It was clear from its popularity that our Citroen Independence was meeting a real market need by offering an affordable, MPV-sized wheelchair accessible vehicle for families and care providers. However we also learned that customers have many differing preferences in terms of specific seating layouts and wheelchair space.
"I'm delighted that we've been able to respond to these needs by dramatically widening the choice of models available in our Independence MPV range."
Home demonstrations are available on all Allied Mobility vehicles. For details call free on 0800 916 3062, email info(at)alliedmobility(dot)com or visit http://www.alliedmobility.com
# # #