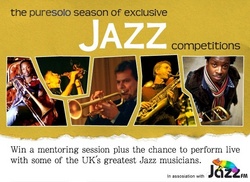 The PureSolo and Jazz FM series of competitions has created unique opportunity for talent from outside traditional fields. I am very excited to be part of it. Steve Waterman
(PRWeb UK) May 21, 2010
Four jazz performers have been given the opportunity of a lifetime to perform at high profile events with top jazz ensembles, The Snake Davis Band and Badbone & Co, thanks to a series of online competitions hosted by PureSolo.com in association with Jazz FM.
Entrants were required to use PureSolo's free online recording technology to record themselves singing or playing along with backing tracks supplied by Snake Davis and Dennis Rollins, only available to download at PureSolo.com.
A panel of judges consisting of Gary King (Jazz FM DJ), Sebastian Scotney (London Jazz/Telegraph), Snake Davis and Denis Rollins hand-picked one singer and one instrumentalist from each of the two competitions to go on to win the coveted prize.
Saxophone player Dan Johnson from Leeds and singer Esta Benjamin-Daley from Watford, were chosen by the judges to perform with the Snake Davis Band this Friday in a sold out show at the Pizza Express Jazz Club in Soho to a packed audience that will include the winners' friends and family.
Winners of the Dennis Rollins competition, trombone player Robbie Harvey and singer Claire Phoenix, have to wait a little while longer for their big performance, which will be at the Guardian Hay Festival on the 30th May, playing to an audience of thousands.
"The chance to perform in these environments alongside such renowned jazz artists presents a fantastic opportunity for our winners. They will get to experience the thrill of performing at prestigious venues with professional musicians. We hope to see much more from our winners in the future." John Thirkell, COO PureSolo.
The final competition in the PureSolo Jazz Series is now open for entries. Singers and musicians can enter now for the chance to perform live with trumpet legend Steve Waterman.
###